By Meredith – Port Elizabeth, 14th November 2018. Need some inspiration for planning your magical Moroccan holiday? This post provides an overview of itineraries, activities, accommodation options, travel and safety in this North African country.
Traveling—it leaves you speechless, then turns you into a storyteller. Ibn Battuta.
Designing Your Amazing Itinerary
Planning a foolproof holiday by yourself is easy with the multitude of websites dedicated to travel in this North African country. It's as simple as typing the period of time you can spend in Morocco and hitting search. You'll be surprised by the number of 'two weeks in Morocco' posts you'll come across. There are extensive blog posts about what to see, where to stay, what to eat, even what to pack and how to dress! Read Icho's recent article on how to dress as a woman in Morocco.
I've even found cool less well-known spots to visit through searching an area on Instagram! If scouring the internet is not your thing, head to your local bookstore to purchase a travel guide to Morocco (although I generally find these very expensive and can usually find a free pdf travel guide online that I download to my eReader thus avoiding lugging heavy books around).
Awesome Adventure Activities in Morocco
Adventure junkies can hike, bike, ride, swim, surf, sandboard and even snowboard and ski in winter. Go camel riding in the Sahara Desert, if the pace is a bit too slow for you opt for a 4×4 or quad biking adventure. Spent time venturing through the myriad of narrow streets in the medinas (old town), getting lost in the many fascinating souks (shops). Kit yourself out in some traditional Moroccan attire- a jellaba (long cotton dress), leather babosh slippers, colorful scarves and kohl eyeliner. Perhaps purchase some souvenirs such as pretty lanterns, brass ornaments (think genie lamps and ornate door stoppers), argan oils and soaps.
Morocco has stunning old mosques, palaces and madrassas (universities) boasting beautiful zellige mosaics and intricate carvings that will delight even the least architecturally interested. In addition, history buffs will be delighted by the well preserved Roman ruins of Volubilis. There are also numerous museums including those dedicated to the Amazign culture displaying the ornate jewelry and traditional clothing worn. Geology enthusiasts can organize specialized tours to visit mines and well-known fossil sites, read more about the fossils and gems found in Morocco.
Game of Throne fans will be delighted to visit two filming locations in Morocco- the UNESCO World Heritage Site of Ait Benhaddou and Essaouira. Ait Benhaddou was used to portray the slaving city of Yunkai (Yellow City) that Daenerys Targaryen laid siege to. No fewer than twenty films have been shot on location at this old mud kasbah. The Atlas movie studio is located close by and one can go for tours to see the movie sets. The pretty seaside town of
Essaouira makes a short appearance in the series as Astapor Home of the Unsullied. The late Jimi Hendrix and various other celebrities have favored this laid-back arty town.
After a tiring day of touring, relax and enjoy a meal at a rooftop restaurant to watch the sunset over the medinas. Hours melt together while engaging in a spot of people watching, sitting in the square sipping mint tea or freshly squeezed orange juice. Spend an afternoon wandering through one of the lovely gardens such as Majorelle Garden. Emerge a refreshed, pink skinned person after a 'grommage' treatment at a hammam. You will be amazed by the amount of skin that will be slothed off your body! Treat yourself to various steam rooms, hot baths, massages and other treatments.
For those attached to modern comforts, there are large malls, movie theatres as well as all nightclubs and fancy restaurants. Enjoy a belly dancing show, sing around the fire and practice your drum beat in the desert camps or visit Pigeons du Sable, a group of Gnawa singers, in the Khamlia village in the Sahara Desert.
Party it up at numerous discotheques in the bigger cities of Marrakech, Casablanca and Fez. Although a Muslim country, Morocco is pretty relaxed with alcohol served in hotels and bars. Shisha bars are popular and those looking for something stronger won't struggle to find, especially in the blue city of Chefchaouen. Good spots to visit in Marrakech are highlighted in this recent post.
Accommodation in Morocco
No matter what your budget you will easily find accommodation to suit your pocket- from budget hostels and backpackers with communal living arrangements to luxury, exclusive hotels and resorts. For a distinctly Moroccan flavor choose to stay in a traditional riad or kasbah. Amble reviews of accommodation can be found on sites such as TripAdvisor and Bookings.com.
Airbnb is rapidly gaining in popularity offering shared and private rooms as well as whole houses for lease. Through Couchsurfing, travelers can stay for free in the homes of fellow Couchsurfers. This is an excellent opportunity to get to know the local way of life in Morocco. For those not restricted by their visas, reservations can also be made while traveling with numerous travel agencies dotted throughout each city. I find it best to know where in the city you would like to be based, often dependant on your transportation, and then look for suitable accommodation in the area. Google Maps is very helpful for this.
---
Related Content:
---
Luckily we had friends that had traveled in Morocco and still had their itinerary and accommodation details, so although we couldn't stay in the same standard of accommodation, we were able to find places in the right areas ie. close to the old town medinas or local transport like train stations. We mostly stayed in really reasonably priced Airbnb accommodation, that were usually private rooms in a BnB like setup with a shared bathroom and access to a basic kitchen. Maybe not the wisest in the middle of winter as most were not setup for the cold weather (picture no heaters and maybe only one thin blanket, the first time you've experienced snow!). We enjoyed getting to know the locals running these facilities as well as fellow travelers. To me, this is much more personal than staying in a large hotel. Airbnb also gave us the opportunity to stay in a palace that was being restored in Fes- a nice little brag.
We also treated ourselves to two nights in a gorgeous riad in Marrakech following our time in the Sahara. Riads are Moroccan houses based around a central garden. These small BnBs tend to boast beautiful architecture, possibly a pool and rooftop dining area. Our riad was beautiful, tranquil and cat-filled (always a highlight to me) and the staff were so accommodating. However, even in more expensive accommodation, you can have issues as following a massage at the local hammam. I came home to shower only to find out the hot water hadn't been working for days. Cue trying to remove oil in cold water in winter!
Traditional Moroccan Cuisine and Dishes
Tagine and couscous are synonymous with Moroccan cuisine. I could dedicate a whole post to the joy of these two meals and the varieties thereof. To me, the best tagine I had the whole two weeks was at a dodgy looking little setup in a back street in Casablanca. Essentially in a fresh fish market with mangy cats lurking about and only non-English speaking locals, we managed to order two chicken tagines. Man oh man, I drool thinking about how comforting that meal was on frigid afternoon. To be perfectly honest, I got tired of the food pretty quickly as I found tagines to be mostly overcooked meat and veggies and all equally spiced and bland in comparison to how I cook. But don't let that put you off of these yummy hearty meals.
Mint tea (atay) is surely the national drink of Morocco with copious amounts being drunk throughout the day. The sweet minty drink is very satisfying. Bread, bread, bread-so many variations, so much freely available, cheap and delicious. For us, a 3 Dirham bread torn up and spread with local goat cheese was the best, and cheapest breakfast on the go. Harira soups were also a firm favorite of mine, but I can eat soup, and of course bread, everyday, contently. Olives, dates and argan nuts are also popular and tasty snacks.
Without going into further detail of meals to try, I just want to highlight that you won't starve in Morocco. Food is cheap and good for you (lots of salad with little meat) and restaurants abound. Most places are tourist orientated and thus cosmopolitan dishes such as pizza, burgers and kinds of pasta are available. Wraps andshawarmas with French fries are also popular and very good. Vegetarians and those with food restrictions should be easily accommodated as well especially in hotels. Refer to this post to read about being a vegetarian in Morocco.
As per most travel posts you are advised to drink bottled water to avoid any stomach issues. I've also read to ask for the fresh orange juice to be poured into a bottle rather then to drink from the glasses at the little stalls, as they are not properly cleaned between patrons. The juice is cheap, delicious and refreshing. We drank everyday and experienced no issues. However, we both had unsettled stomachs after eating a feast of kebabs and seafood at the barbecues in the Jemaa el-Fnaa Square in Marrakech. This made for an interesting morning of sightseeing the next day (which reminds me of the great tip of carrying tissues and spare change with you!).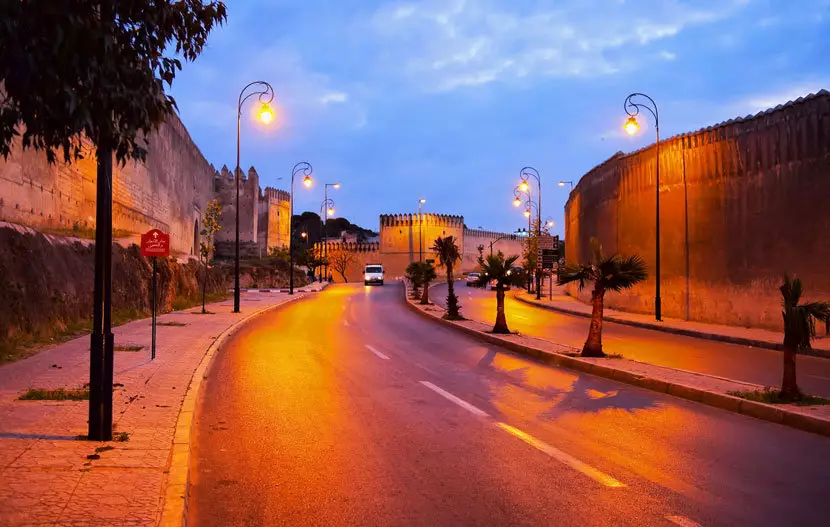 Transport and directions
Public transport: buses and trains are mostly reliable and fairly pleasant. For detail on the railway system read Icho's post about traveling by train in Morocco.  To travel in town hail a petite taxi, agree on a price with the driver before you get in because they do not always run the timer. Each town's taxis are a different color, which I thought was adorable! For between city travel you can haul a grand taxi (usually white and green) that can be shared with other travelers to split the cost. Morocco is a fairly large country, for instance, Marrakech is an 8-hour drive to Fes. For those restricted time-wise, there are flights between the main cities. However, you'll miss seeing the changing landscape when traveling in this manner.
We rented a car to take from Casablanca to Fes for a few days in the beautiful blue city of Chefchaouen. The roads are in good condition, albeit narrow in some sections in the countryside, and well signposted. Traffic police are active on the roads, so ensure you abide by the rules of the road and carry the correct documentation. No cars are allowed in the narrow medinas, where you are most likely to spend your time. In hindsight, we could have actually caught the bus between cities as the rest of the day the car stayed parked. We organized a personal tour with a guide (at some stages a guide and driver) for a four day trip from Fez to Marrakech through the Sahara Desert. 4×4 vehicles are preferable in the desert and being winter I'm grateful we didn't need to drive on the snow covered passes.
A good tip when exploring the medinas is to take a business card (aka name, address and contact number) of the place you are staying at so that if, and most likely, when you get lost you can find a friendly face to send you in the right direction or catch a cab to take you home. Even if there's a language barrier they should be able to get you safely home following the business card. Another tip is to preferably find a friendly salesman in his shop rather than just a random in the street.
Many tourists complain about being harassed in the medinas by locals, even children, wanting to give directions and then wanting a tip. Please don't support this, especially the children, who will skip school to make extra money dragging tourists around town. We also found that a few times when well-meaning locals tried to give directions, they typically had no idea where we actually wanted to get to and would send us down the wrong way. However, sometimes these narrow little roads tend to lead to best discoveries. So we always encourage keeping some time aside to allow for these aimless wanderings rather than sticking to a strict schedule.
Travel safety in Morocco
Many travelers have safety concerns regarding travel in Morocco. Yes, you are in an African country but really you don't need to stress. On the whole, I found Moroccans friendly or indifferent (understandable when you bombarded with tourists everyday). Use your common sense and follow your gut instinct and I don't think anything bad will befall you.
Essentially my husband and I backpacked through Morocco for two weeks and we only had one instance where we felt unsafe. We were walking in the Fez medina at night looking for a restaurant we heard had good reviews. You will see how twisty, turny and indistinct the narrow roads of the medinas are, so we had our phone and map out clearly looking a little bit lost. A group of youngsters approached us asking where we were going, we gave the name of the restaurant and they informed us that without a reservation we would not get a table and that we should rather follow them another restaurant nearby. We followed them a few steps but realized we were being led to a fairly dark, deserted side street. We followed our gut instinct and got out of the situation quickly. I believe they had intended to grab our phone, but I don't think they would have been violent in anyway.
I hope this post has you itching to plan your next holiday. Not only does Morocco provide a wide variety of activities suitable for solo, couples and families, but it is also an affordable travel destination. If you have any questions feel free to contact one of our friendly staff at Desert Morocco Adventures.