If you are looking for Morocco Sahara Adventures then you should travel to Merzouga in the southeast of Morocco. It is a magical region and It always promises an enjoyable adventure experience. So if you want to see the Moroccan Sahara and you don't know how to venture into the desert. In this post, we will talk about which Moroccan desert is best for adventure activities.
Timing and proper planning are one of the most important aspects when it comes to traveling. The best time to visit the desert in Morocco is between October and May. The most famous sand dunes located close to Marrakesh are those of Erg Chebbi, near the desert towns of Erfoud and  Merzouga. Merzouga is about 561 kilometers through the winding mountain passes and fertile valleys from Marrakech. So you should not assume that you will travel to the desert from Marrakech in one day. Most travelers who have little time opt for a three-day desert trip where they experience almost all the highlights of the Sahara desert.
Morocco
Morocco is a North African country bordered by the Atlantic Ocean and the Mediterranean Sea. It shares land borders with Algeria and Mauritania.
Morocco has a long history dating back to ancient times. The region was first inhabited by Berber tribes but soon came under the influence of Roman, Byzantine, and Islamic civilizations. After a long period of French protection, it became independent in 1956.
Morocco has a population of around 37 million and is famous for its colorful old towns. The country's economy is largely based on mining, manufacturing, agriculture, and fishing, but it also has a large tourism industry.
Tourism to Morocco has boomed in recent years with over 10 million tourists per year leading to an increase in foreign investment in this sector. As a result, many hotels have been built or renovated in recent years and more are planned, as well as luxury high-rise apartments being built in various locations.
The Sahara Desert
The Sahara is the largest desert in the world, covering 31% of Africa and most of Morocco. It is a sand drift area with palm forests, wild plants, and trees. There are also small villages, markets, old traditional villages, valleys, and camel farms.
The Moroccan Sahara is an exotic and amazing place to visit. It is one of the last places on earth that is still untouched. It has much more to offer than just sand dunes and camels. There are amazing natural wonders, amazing wildlife, breathtaking sunsets, and delicious food to try!
Morocco Sahara Adventures
Morocco has a diverse landscape of mountains, deserts, and lush green valleys. The Sahara Desert, which covers most of the country, is a major tourist attraction for many travelers as it offers adventure opportunities such as camel riding, quad biking, 4×4 excursions, and sand boarding.
Previously, my colleague wrote a post about whether visiting the desert is worth it and what you can do there, check it out and let us know what you think in the comment!
Desert Morocco Adventure is a company that organizes journeys in the Sahara Region. The tours are offered to people who are looking for authentic experiences with nomads, camel rides, and 4×4 excursions in the Sahara Desert.  The travelers are guided by a knowledgeable guide who can introduce them to different Berber tribes, visit nomads' families and explore sand dunes. Desert Morocco Adventure's team has been organizing tours since 2015 when they first discovered their love for exploring the area of Morocco's desert. They have always strived to become one of Morocco's leading companies in the tourism sector as well as one of the most known tourism companies in Morocco.
The best Moroccan desert for adventure activities
The Moroccan desert is the perfect location for a range of different adventure activities. One of the best destinations to visit in Morocco is Merzouga. Another favorite of many travelers is Erg Chigaga, a wild and hard-to-reach desert, and an SUV is needed.
Without a doubt, Merzouga is an incredible destination for all kinds of adventure activities. It has many beautiful places to explore. And we've picked up Merzouga as the best Moroccan desert for the reason that the region offers many adventure activities and luxury accommodations.
The nearby dunes of Erg Chebbi are ideal for sand boarding, quad biking, and camel riding as it offers extensive sand dunes suitable for any type of SUV vehicle.
If you're looking for the best scenery for 4×4 coursing then the nearby desert plateaus at Merzouga are high on everyone's bucket list. The landscape consists mainly of steep slopes and deep wadis that are also perfect for serious hiking adventures.
Morocco's Tinghir region holds many secrets waiting to be discovered by intrepid adventurers who don't mind getting their hands dirty. We recommend exploring the Atlas Mountains if you are looking for an adventure full of uncovered ridges and breathtaking landscapes that will leave you breathless!
Sahara Adventure Tours From Marrakech
Marrakech is nicknamed the Red City and is also known as the fourth largest city in Morocco. It was founded by the Berber Almoravid ruler Abu Bakr as the capital of the Almoravid Empire. An empire stretching across the Maghreb and Andalusia, starting in the 1950s.
The old part of the city has been a UNESCO World Heritage Site since 1985. It is located at the foot of the snow-capped peaks of the High Atlas Mountains, about 561 kilometers from the golden sand dunes of Erg Chebbi.
The red city is the starting point of Morocco Sahara Adventures. The road between Marrakech and the desert offers stunning mountain landscapes. Most desert guided trips take you to the Ounila Valley, formerly known as the caravan route between the Sahara and the High Atlas Mountains. There you can admire great examples of Moroccan architecture that can be found in the old Kasbah, which is a UNESCO World Heritage Site.
After visiting this most interesting ancient village in Morocco, Ait Ben Haddou, you can travel through a very beautiful lush valley known as the Valley of 1000 Kasbahs to the canyons of Dades and Todgha.
Once arriving in the desert, you will have the opportunity to experience camel riding on the soft sand dunes, climb the highest dunes to watch the stunning sunset, and enjoy the splendid desert-like landscapes. If it doesn't rain, which is rare, you can also spend the night under millions of bright stars.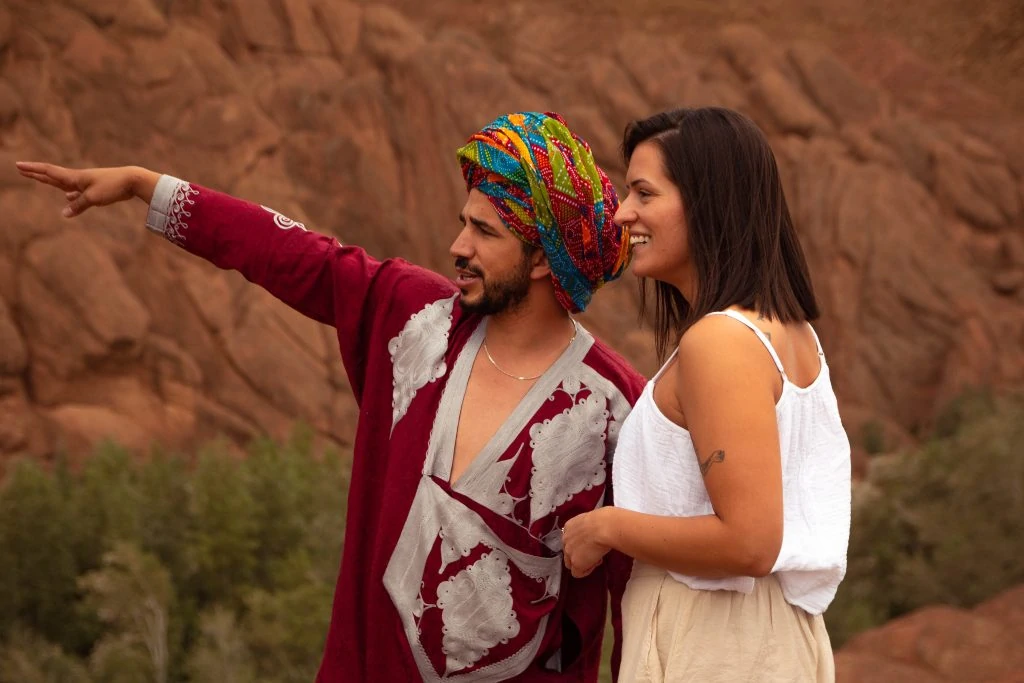 If you opt for a 3-day desert trip from Marrakech, check out this PDF file (Excellent route program through the Sahara desert from Marrakech), it contains an itinerary ideal for those who don't have much time to dedicate to a desert trip. This itinerary takes you through the most beautiful tourist attractions.
Highlights of Sahara Adventure Tours
Enjoy the beautiful views of the High and Middle Atlas Mountains with the highest pass in North Africa
Admire Moroccan architecture at Ait Ben Haddou Ksour, a UNESCO World Heritage Site
Enjoy the journey along the Valley of Roses and its 1,000 Kasbahs
Take a short hike through beautiful canyons with the high slopes of Dades and Todra
Experience a camel ride while enjoying a dramatic sunset in the Erg Chebbi dunes and also try sandboarding
Stay overnight in a luxury camp in the desert and enjoy the beautiful bright starry sky
Enjoy the beautiful and varied landscapes of the desert and colorful mountains
Great Location for Morocco Sahara Adventures
Erg Chegaga: Erg Chegaga is the largest of the shifting sand dunes that stretch for an impressive distance of about 45 kilometers from the rural desert town of M'Hamid, near the Algerian border.
Erg Chebbi: Erg Chebbi is Morocco's most visited desert due to its easy accessibility. The dunes of Erg Chebbi are about 40 km from Rissani near the town of Merzouga. The sand dunes reach a height of 150 meters over an area of approximately 28 kilometers.