Perch atop a dune to watch a beautiful sunset over the red sands of the desert. Indulge in a delicious spice fragranced dinner with new found friends. Drum yourself into a trance-like state with the nomads, while gazing at the star-filled sky. Wake up early to catch the sun's rays peeking over the dunes, welcoming yet another hot day in the vast Sahara Desert. Fulfill your lust for adventure on camelback, 4×4, or quad biking, or try your skills at sandboarding.
"What makes the desert beautiful,' said the little prince, 'is that somewhere it hides a well…"
Antoine de Saint-Exupéry, The Little Prince.
Some of us are camping enthusiasts who can happily spend weeks bunking down in their tents, sitting around the fire, and being one with nature. For others the very thought leaves you stone cold, even the idea of 'glamping' does not appeal. Don't be put off when you hear you'll be camping in the desert. The camps or bivouacs are well set up and established with proper structures and facilities. We stayed in a budget camp, and still had a bed with lights and a bathroom with a shower and toilet! This was a far cry from the tent we had expected! Perfectly comfortable and more than adequate for a night or two in the desert. For those wanting a more indulgent experience, there are many exclusive, luxury camps featuring large fully kitted out bedrooms and even personal butler services.
Interestingly, most of the desert is not the wind-swept sand you'd imagine, but rather rocky black desert. Only two areas in Morocco, known as ergs, are actually the iconic sandy red dunes. Most tourists visit Erg Chebbi in the Sahara Desert close to the desert village of Merzouga, roughly a 9-hour drive from Marrakech or an 8-hour drive from Fez. Erg Chigaga near M'hamid is less popular as it is more difficult to access. It is more remote and wild with less tourist influence- the camps tend to be smaller and further set apart. For those happy to travel the extra distance Erg Chigaga is perfect for those looking for solitude.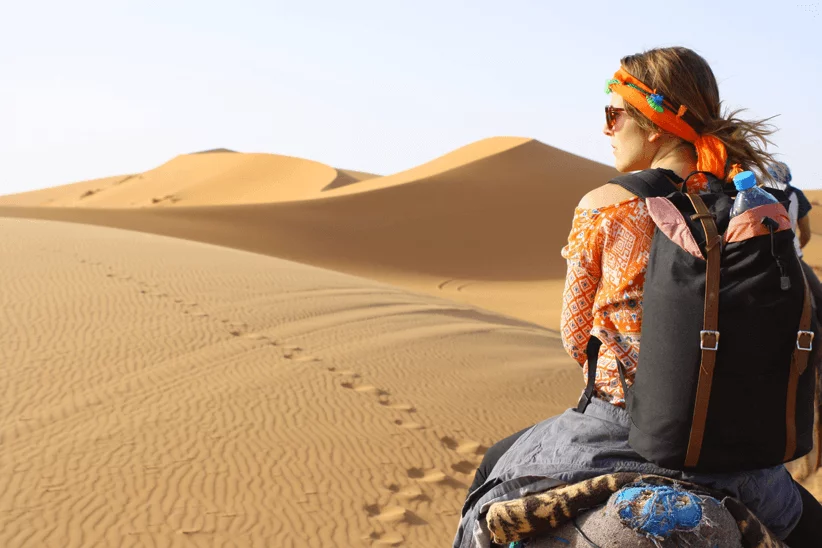 Our experience in Morocco's Sahara Desert
We visited in January, the middle of winter, so unfortunately the weather was pretty awful- extremely windy and cold- to the extent that the poor camels kept sitting down. We ended up waiting for the driver to collect us the next morning rather than coerce the camels to drag us through the frigid, gale force (extremely exfoliating) wind. Conditions were overcast so sadly we weren't able to witness the sunset or sunrise, sit at the campfire, or watch the stars. All reason for us to visit again at another time of year! The tents are fairly rigid structures, covered in blankets, but even they were taking strain in the blustery weather, resulting in very fresh conditions inside. It had rained the night before (it rains in the desert!) so the sand dunes were crusting over as they dried out producing darker sand than typically experienced in the red Sahara Desert.
As I describe the night, it truly sounds awful, but I'm not trying to discourage you at all. We had a wonderful time and are so enthused to visit again another time of year. It really is a bucket list experience, especially the camel ride, sand boarding, 4×4 riding over the dunes, and the Berber music. I just advise planning your trip according to the weather and if possible try to stay more than one night in the desert town of Merzouga so that if weather conditions are unfavorable you can try again the next day. It is also advisable to arrange a private tour to avoid getting stuck on the sandy roads. For a night in a desert camp, you really only need an afternoon to explore. Multi-day options exist if you would really like to adventure in the desert. You can either stay at your desert camp or in one of the multiple hotels scattered in the desert. Most have gorgeous pool areas with a view of the rolling dunes. Perfect for relaxing or dreaming of your Arabian prince riding in on a camel? Or magic carpet?
A typical desert camp experience
A standard desert camp experience starts in the afternoon with the company dropping you off in the desert outside of Merzouga where you'll meet your camels, ours were called Dakar and Motorcar (I was suitably chuffed as my camel was bigger than my husband's!). Be careful when the camel gets up from the ground as they can fling you off. You'll then set off for a short camel trip through the dunes, led in a row, to your camp. Your guides will be happy to snap photos of you on your camel. Arriving at the camp we were greeted by the camp staff with nuts and of course mint tea and were dressed up in the traditional Berber jellaba. We then tried our skills at sandboarding and climbing the dunes. I also spotted a feral cat that I tried to entice with some leftover tagine!
Usually, the staff would start a big bonfire in the campgrounds, prepare your dinner, and play traditional Berber music on drums and an assortment of instruments. The weather did not permit this so we spent our evening in the main tent, where meals are served. We were a group of about 8 tourists with a further 3 arriving later in the evening with another guide. We spent time chatting with other tourists and camp staff, most of whom were fascinated that we were also African. We spent time showing them photos of South Africa, even singing our national anthem. We exchanged some Berber greetings for funny Afrikaans (one of the 11 official languages in my country, similar to Dutch) sayings, resulting in lots of laughs.
Dinner was a three-course affair shared communally- huge portions of salad and tagine. Followed by more tea, nuts, and fruit (the sweetest naartjies, I'm not sure of the name in English – easy peel oranges?). Most of the guests retired to their tents after dinner, but we stayed to practice our drum skills (let's say we shouldn't quit our day jobs, but I think it was pretty entertaining). We then climbed under the multiple heavy blankets and fell fast asleep listening to the howling wind. We were awakened by our guide at around 7 in the morning, but of course our luck, it was too overcast to enjoy the sunrise. We then drove to another small auberge where a lovely breakfast spread was set out. We were able to use the bedrooms and shower before we departed for a night in the Boulmane Dades.
We slept at a really nice auberge in Merzouga the night before our desert camp. We arrived pretty late so we settled down in our huge room and enjoyed a lovely meal and early evening (no TV or wifi, so pick your accommodation accordingly, I was happy to pour over a book snuggled in bed). The next day we drove through the desert, to various tourist spots including an old uninhabited town close to the Algerian border, had tea with a nomadic family, visited old mines and water wells, and whizzed around through the dunes. We really enjoyed visiting the nomadic family and learning about their way of life. If you remember, bring along some sweets for the children to enjoy. The crazy winter weather had resulted in one of their tents caving in-really a stark reminder of the harsh reality of living at one with nature.
To further experience the desert culture we enjoyed a Gnawa performance at Pigeons Du Stable in the Khamlia village. Gnawa music is ancient African spiritual religious songs that combine ritual poetry with traditional music and dancing. For a small entrance fee, we listened to a number of enchanting songs and were served mint tea and nuts. We got to play some of the instruments and sing and dance along, which was good fun.
We also stopped at a local home operating as a restaurant for a yummy Berber pizza lunch. As usual, the meal started with mint tea, biscuits, and nuts, followed by a huge salad full of olives. 'Madfouna' is fondly known as the Moroccan version of pizza. It is a large flatbread filled with ingredients such as beef or chicken, eggs, nuts, onions, and garlic, as well as herbs and spices: cumin, paprika, turmeric, ginger, and parsley. It is traditionally cooked in a sand or mud oven. I'm sure a post providing detail on this meal is on the cards, so stay tuned! It was a great experience sitting on the colorful carpets and tucking into this delicious meal.
Advice for surviving your night in the desert
Preferably don't have a sprained ankle, like I did when we visited, as trekking up the dunes is quite challenging, even for the able-bodied! Moroccan tour guides love taking photos of their guests jumping in the desert, literally every time we stopped, they were excited to capture us jumping for joy. All fun and games, but pretty painful when nursing a broken bone in your foot! (Don't panic, I hurt my foot while camping on New Years' eve, not in Morocco!). Also, I can really recommend taking a comfortable pair of shoes with Morocco, you'll be doing a lot of walking. I am extremely grateful for the Hitec hiking boots with ankle support that I bought before our trip. They are lightweight and super comfortable, and I wore them and my First Ascent three in one jacket every single day in Morocco-super stylish. You have to make do when you only have your backpack and want to carry as light as possible with your sore foot!
Take a funny video of you pouring sand out of your shoes after your time in the desert. You'll be rubbing sand out your eyes, clothes, bags everything for a few days. Our guide asked us to pack an overnight bag for the desert camp as the camels need to carry the bags. You can leave your other luggage at the hotel or your guide can transfer it to wherever you are going after your camp experience. Our guide gave us bottles of water before embarking on our camel trek. We were also given scarves to wear to protect our faces while trekking in the desert. Word of advice- when you return home, don't wash the scarf with your other laundry- the color will run. Thankfully I was smart enough to wash separately and enjoyed green hands for the rest of the day. Another handy hint is to hold on tight and wear your seat belt when 4x4ing in the desert, it's quite an exhilarating and bumpy ride. I wasn't wearing my belt and hit my head pretty hard on the roof! (I'm extremely accident-prone, so I'm sure you'll be fine). Any time of year it is advisable to bring a jacket as evenings in the desert can be chilly. Have a smaller bag that you can use for your time at the camp and bring sweets along for the nomadic children. In summer I would imagine that sunscreen and lightweight clothing would be essential.
As you can see your time in the Sahara will be a memorable, bucket list experience. It is quite a drive from the cities, but really should not be missed when traveling in Morocco. In the desert, you'll find solitude and friendship, starkness and warmth, an empty landscape, but a full heart.