Marrakech Desert Tours: Desert Morocco Adventure Tours
Welcome to the Desert Morocco Adventure Tours site! The best place for private Marrakech desert tours and excursions through Morocco. You've never been on a real adventure until you've visited the fairytale medieval medinas, the majestic Sahara desert, and the seductive shores of the dazzling North African country of Moroccan. Filled with exotic tastes, exquisite crafts in the ancient maze-like souks, and stunning scenery, Morocco is the dream destination for adventurers.
Morocco is an interesting blend of the African, Berber, and Arab worlds, featuring modern cities like Casablanca, juxtaposed against small nomadic villages in the mountainsides and the Sahara Desert. Spend lavish days in the vibrant red city of Marrakech enjoying fine dining, ample shopping opportunities, vibrant nightlife, and spa experiences interspersed with fascinating cultural sites.
Escape the hustle and bustle of the city and head out to experience the majestic Sahara Desert. Ride camelback through the shifting sands of the tallest dunes of Morocco, marveling at its untouched beauty. If time allows, visit the serene coastal villages or find peace in the beautiful blue city of Chefchaouen- a photographer's dream.
Mixing ancient culture and modern conveniences, Morocco's popularity is on the rise. It is one of the top 20 travel destinations. What are you waiting for, pack your bags, and let us at Desert Morocco Adventures plan an epic Moroccan adventure for you!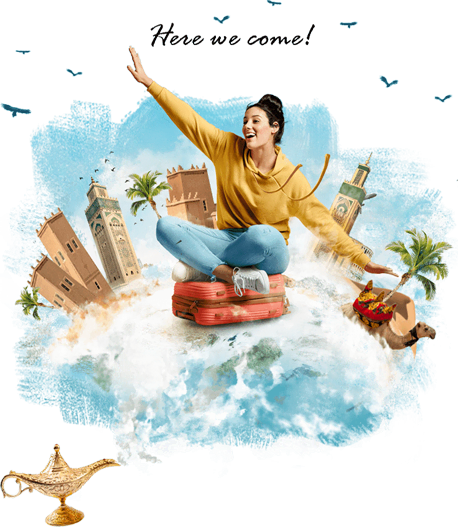 About Desert Morocco Adventure Tours
Your ultimate partner for fun, exciting, and affordable adventurous Sahara Desert excursions in Morocco. Let us show you the magic of the real Morocco through the eyes of the locals and make your Moroccan travel dreams come true.
Inspired by our love for all matters related to adventure travel and Morocco, our team and friends happily share their best-kept travel secrets here on the Desert Morocco Adventure site. We strive to be an honest, authentic, and hospitable company. Our responsibility is to ensure that the adventurers who travel with us, travel with a sense of comfort and peace of mind. Comfort, safety, and well-being are our top priorities. – willing to go above and beyond to satisfy our customers.
We are a well-established, internationally recognized, and award-winning Moroccan-based adventure tour company. We're seasoned world travelers. Our goal is to provide an experience that will meet or exceed the requirements of our guests by providing expertly curated tours.
Our passion is to provide you with all the information regarding the best places to visit and enjoy during your stay in Morocco. Whether you stay at one of our partner accommodations or travel with us on one of our world-famous Moroccan desert adventure tours, we want you to have the most amazing vacation and an unforgettable experience.
We love this charming country with its exciting natural landscapes and we want to share that love with you. Should you need any advice on traveling in our beloved country, please feel free to drop us a line or chat with our friendly travel experts – Ask us anything you would like to know about adventure travel in Morocco.
Desert Morocco Adventure is a privately held company, duly incorporated and domiciled in southern Morocco.

Most Popular Morocco Tours
&

Marrakech Desert Trips
At Desert Morocco Adventure we organize daily private tours through Morocco and marvelous trips from Marrakech to the Sahara desert. We have various Morocco tours and outdoor activities available that can be booked all year round. Our trips are private, with just you and a friendly and knowledgeable English-speaking driver/guide in an air-conditioned vehicle.
Do you need a well-organized customized travel plan? Our experienced Morocco travel planners are happy to help you organize exciting Morocco tour itineraries. Travel around your favorite destination for day trips or multi-journey round trips from the most popular Moroccan vacation destinations below:
Morocco Travel Guide
&

Morocco Trips

To fully enjoy your Moroccan trips, you need to have basic information and knowledge about your destination. Morocco boasts a wonderful ancient culture and history with many fascinating sites to explore. Desert Morocco Adventures have prepared tailored Morocco tour guides containing all important and interesting information to keep you well-informed during your trip. Our Morocco travel guides not only provide detailed itineraries of our desert Morocco tours, but also places of interest, including activities, history, and culture. We also include handy tips on how to be respectful while traveling through the country. We also regularly share news about our Morocco trips and travel experiences on our blog.
Our Morocco travel guides are written by locals who know the country very well.
FAQ - Desert Morocco Adventure Tours
What They Say About Our Marrakech Desert Trips
We booked a private tour with Desert Morocco Adventure Tours from Fes to Marrakech for 4 days. It was an absolutely incredible trip. Our guide was great and speaks English very well. My husband and I had such a wonderful time and it is one of our favorite desert trips so far. The Sahara was breathtaking and Omar let us stop as often as we wanted for photos or breaks. Thank you for an incredible experience and hopefully, we will return to Morocco one day!


Outstanding experience and excellent services ever! The places we visited during our desert tour were wonderful with beautiful scenery. The camel ride was amazing and the sunset in the desert is one of the highlights of our tour to the Sahara desert. Our guide was super friendly and helpful! The four-wheel vehicle was very comfortable and had an air-conditioning system. I strongly recommend Desert Morocco Adventure's Marrakech 3-day desert trip!


I traveled two times to Morocco, and both times I trusted Desert Morocco Adventure to organize my trip, like driver and guide, host, and sharing different activities. On the first trip, I stayed with Desert Morocco Adventure for 4 days, and on the second trip for 8 days.


I went to Morocco last Christmas and contacted Desert Morocco Adventure for a trip to the desert. It was a great experience and Youssef is the best conductor. Very recommendable! Thanks for everything


Desert Morocco Adventure gave us a great day out where we got to see many things we would not have found independently such as the Fint Oasis near Ouarzazate and Ait Ben Haddou. Ahmed is a really informative guide.

Recent posts on Desert Morocco Adventure Tours blog
Read about the latest travel inspiration on the Desert Morocco Adventure blog. Through our blog, we share helpful tips and honest reviews, focusing on topics such as Morocco Tours, Tourism Transport, Travel Tips, Moroccan Food, and various locations. Check out our Morocco Travel blog posts or our popular posts section to read more about this mystical country. If you would like to share your travel experience in Morocco with us, please feel free to contact us.
✨Guided Quad Biking Tour in Agafay Desert, Marrakech
Join our guided quad biking tour in Agafay Desert, Marrakech! Get ready for an adventure through Morocco's stunning landscapes that combines the thrill of adrenaline with exploration. Your journey starts with a hassle-free pickup from Marrakech, whisking you off to the mesmerizing desert. Once there, swift instructions set the stage for your quad biking escapade. With our expert guide by your side, brace yourself for an exhilarating ride through the desert's breathtaking landscapes.
Every day, our quad biking adventure welcomes you, offering both morning and evening sessions at 14:00. Whether you're drawn to the vibrant light of the morning or the tranquil charm of the afternoon, your experience in the heart of the Agafay Desert guarantees excitement and discovery.
Best Private Luxury Morocco Tours
Discover the best of Morocco on a private tour with an English-speaking guide. Icho and his team organize exclusive private tours to Morocco in the utmost luxury, allowing you to discover the beautiful landscapes and rich history of the country on a private or tailor-made trip.
Our experienced team offers luxury tours in Morocco for individuals, couples, families, and small groups. Let's discover together all that authenticity in the beautiful land of light and reveal the amazing mystery of the beautiful landscapes of the desert. Give us a chance to make your visit to our beloved country a unique experience and show you the most beautiful places.
Youssef Laandour
My name is Youssef, but my friends call me Icho because that's my Berber name. I was born in a small Berber village in Zagora province. I work daily as a driver/guide and also organize adventurous desert tours throughout the country. I have a lot of experience in the tourism sector. My passion is to learn different languages and cultures of different countries. With this knowledge, I can explain to people our culture and traditions because they are so diverse and beautiful.