Starting a travel blog is very easy these days and it can only take an hour to get everything ready. Here I will show you how to create a beautiful travel blog in a few simple steps. You don't need to be an expert in design or coding. Just follow our guide and you'll be creating your own travel blog in less than an hour.
Here are some things to do before we start installing WordPress:
Find an attractive name for your blog – Today there are many apps that you can use to find a name that fits your idea. You can also use artificial intelligence to get some suggestions for your brand name. On looka.com  and  namelix.com you can find some great ideas for your brand logo. Now that you have found a name that suits you, you need to register your own domain name!
Register your own domain name: Choose a simple domain name that is easy to remember. I recommended a domain name that is about 15 characters long or even less.
As a beginner, you may need to go for something cheaper, but if you're on a budget, it's better to choose the best WordPress hosting as it can improve your website speed and boost your Google rankings.
There are different types of WordPress hosting options available such as shared and VPS WordPress hosting, etc.
For cheap domains, you could go for One.com  or HostGator. It allows you to register your domain cheaply, and also a web hosting optimized for WordPress.
The prices of HostGator WordPress web hosting plans: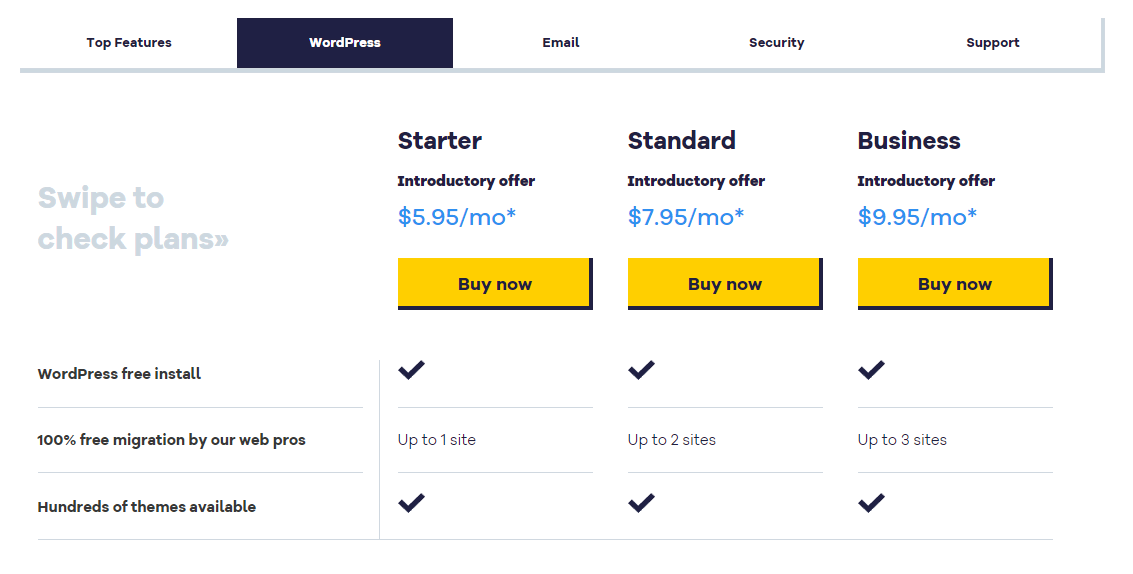 You can read more about their offers and what's included on their pricing page.
The prices of One.com WordPress web hosting plans: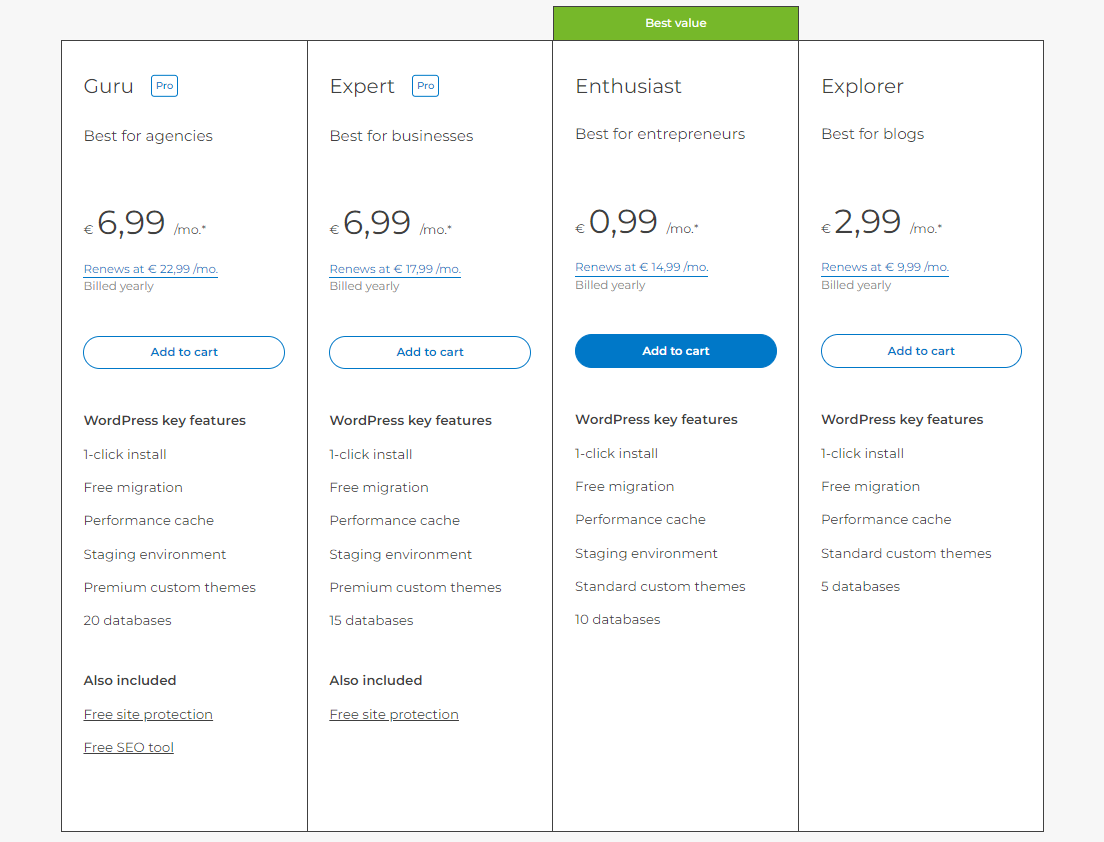 One.com has two options: Self-managed WordPress or a managed WordPress with an add-on plan. According to one.com, anyone who uses my referral link will get a EUR 8 discount on a hosting package and I will receive a EUR 10 discount on my next web hosting package bill.
After you have ordered your web host package, you need to log in to your control panel and search in the settings for the Software or  Softaculous App Installer section. Then click on QuickInstall or on WordPress if your cPanel doesn't have this option.
Here's how you can easily install WordPress on HostGator cPanel using a tool called Softaculous:
One.com does not provide a cPanel – the familiar control panel used by many hosting providers. It offers its own easy-to-use custom control but does not include all the features that you can find in cPanel.
On the one.com control panel, it is easy to install your WordPress using the 1-click installation tool in a few steps. This tool is only included from their "Explorer" hosting package. On this page, you will find more information about installing WordPress on one.com: Using WordPress 1-click installation.
You can also install WordPress manually on your web space using an FTP program like FileZilla. If you choose this method, follow these steps (Basic Instructions):
Step 1: Download the latest version of WordPress from wordpress.org 
Step 2: Extract the WordPress file and upload it to the public_html folder with your FTP program. With one.com, you'd better just drag and drop all files and folders into the File Manager without using FileZilla.
Step 3: Create a database and user for WordPress on your web panel.
Step 4: Now you can open your domain name or http://example.com/wp-admin/setup-config.php in the browser. Normally you should now see the WordPress installation wizard. Choose which language you need WordPress to have.
Step 5: Click on Let's go! Enter your database information, which you created earlier. Click Submit. If all of your entered information is correct, you should be able to see the Run the WordPress installation button.
Step 6: Now give your travel blog a title and enter the information needed to create your administrator account. Do not use "Admin" as your username!
Step 7: If all went well, you should now see a message confirming that WordPress has been installed successfully. Click on Login to proceed to your WordPress dashboard. Now that you're logged in to your admin dashboard, you can edit your theme, and settings, and install plugins.
My Recommended WordPress Plugins:
Akismet Anti-Spam
ShortPixel Image Optimizer
Wordfence Security
Cookie Notice & Compliance for GDPR / CCPA
WP Rocket
Yoast SEO
WPForms
Many hosts offer free WordPress themes, but if you want something specific. You should check out ThemeForest, which has great professional themes that are easy to install and well documented.
After you've set everything up and tweaked the look of your blog, now's the time to share your travel experiences and ideas. Choose a topic that fascinates you. Since it is a new blog, it is advisable to target a low-volume keyword. If you're not sure which keywords to pick, try a tool called Google's Keyword Planner. It allows you to find low-volume keywords by entering a few words in the search bar.
Improve Your Website's Speed
You may be wondering why the loading time of your website is so important. It affects your site's performance, user experience, and even your rankings. Website speed on desktop and mobile pages has long been one of Google's many ranking factors.
Page loading speeds affect how quickly users can navigate your site. Very slow-loading websites can cause visitors to leave before reaching what they are searching for. This can hurt your search engine optimization efforts.
Use tools like GTMetrix, WebPageTest, and PageSpeed Insights to find out what's causing your pages to load slowly. These tools allow you to see how quickly different parts of your site load. They also give you suggestions on how to improve your site's speed.
Submit Your Website To Google, Bing, And Yahoo!
Once you have created your sitemap.xml, you will need to add it to Google Search Console. This allows Google to see what pages are available on your website and how often those pages are being crawled. It also lets Google know when there are any errors with your website. You also need to submit your XML sitemap to Bing, by doing that you have automatically submitted it to Yahoo as well.
If you have installed the Yoast plugin, it will ask you to verify your website on Webmaster Tools, including Google Search Console. This is a collection of tools that most website owners use to make sure their website is doing well. It can diagnose technical issues and give you feedback that will help you improve your ranking.
If there's a page you don't want the search engines to index and show up in search results, use the meta-robots tag. If you use Yoast SEO, in the Advanced section, you can easily set it to No as below.
Make Your Website Mobile Friendly
A mobile-friendly website is one where the layout adjusts automatically depending on the screen size of the device being used. This adaptation provides a better user experience. A mobile website, with its elegant design and ease of navigation, can rank better in search results and thus provide more traffic to your site.
You can test your website on Google's mobile-friendly Test, which will analyze your site's URL if it's mobile-friendly or not.
Use Rich Snippets
Rich snippets or Rich Results (formally known as Structured Data) are not just nice to have. It improves your click-through rate and allows visitors to see more information in the search result before they click on your website. You can see all different types of rich results in Google's search gallery.
For more information on how to monetize your travel blog, check out this post: Make Money With Your Travel Blog / Generating Online Income In The World Of Travel
Disclosure: Please note that this post ( How to create a travel blog?) contains links to one.com which are affiliate links. There is no additional cost to you, I will earn $10 off my next web hosting package if you purchase through these links.