By Meredith – Port Elizabeth, 10th November 2018. The travel style of all tourists can be accommodated in Morocco – from luxury hotels and riads with fine dining and entertainment in the bigger cities like Marrakech to living the surfer lifestyle in Essaouira and the other quaint seaside towns, or backpacking through the mountains and desert. Deciding how to plan your trip is always challenging, especially for those with limited time or money. Balancing your everyday life and planning a holiday, although exciting and a really good daydream, can be quite daunting. In this article, Meredith tries to unpack some of the pros and cons of organized versus self-travel in Morocco providing some insight from her own two week trip with her husband in Morocco earlier this year.
You've seen photographs of the surreal Sahara desert, been enticed by the spices and cuisines of Moroccan cooking, or romanticized about the old classic Casablanca movie. You've decided you want to head to Morocco for your next vacation but have no idea how to go about this. Living in this technological era it is natural to hop onto the internet and begin researching. You're bombarded with hundreds of articles regarding travel in Morocco. Some of these are pretty disconcerting highlighting safety issues in the country, especially for solo travelers and woman. Obviously, all travelers should be wary, but no one should be put off of traveling in this beautiful country.
Morocco has accommodation and activities to suit all types – refined travelers searching for exclusive experiences; thrill seekers aiming to surf, hike and explore the far reaches of the country; party animals; foodies wanting to excite their palate; those wishing to shop up a storm in the medinas; and those lusting for authentic cultural interactions. Various travel options exist to suit the style and pocket of all travelers. Organized group tours are always sought after allowing for relaxed travel. Personalized travel with a guide and driver are possibly even more desirable, especially for Sahara desert trips. For brave travelers, solo travel in Morocco will be your trip on a lifetime.
Self-travel within Morocco
Some tourists love venturing into the unknown with nothing but a few things stuffed into their backpacks. They plan their trip as they go finding out the local attractions based on surrounding advertising and recommendations from fellow travelers. If they arrive in a place they like they may stay a few days and eventually move along as they please. Although I'm sure a lot of us would like to travel in this manner, most of us are only afforded a few precious days of annual leave and need to fit sightseeing a whole county into only a few days.
Self-travel holidays are adventurous and usually filled with the best stories- such as the brakes of your rental car failing on the treacherous Tizz n Tichka pass! The advantage of this type of travel is that your time is your own and you can go and do as you please without following any agenda. Many tourists complain about the pace of group tours – finding it tiresome waiting for individuals. Also, tour guides typically have connections with certain restaurants and shops, encouraging travelers to spend money at these places so they can receive a commission.
Planning a foolproof holiday by yourself is easy with the multitude of websites dedicated to travel in this North African country. It's as simple as typing the period of time you can spend in Morocco and hitting search. You'll be surprised by the number of 'two weeks in Morocco' posts you'll come across. As well as blog posts about what to see, where to stay, what to eat, even what to pack and how to dress! I've even found cool less well-known spots to visit through searching an area on Instagram! If scouring the internet is not your thing, head to your local bookstore to purchase a travel guide to Morocco (I generally find these very expensive and can usually find a free pdf travel guide online that I download to my eReader thus avoiding lugging heavy books around).
If the thought of many days cooped up with a guide and fellow travelers, bores you to death, why not consider doing some day tours. Tour guides know the best times to visit different sites and usually can organize shorter queueing times and provide transport, food and a wealth of knowledge.
Solo travel within Morocco
Solo travel is a great antidote to self-doubt. With some many locals and tourists, you are never really alone and can quickly strike up a conversation in a taxi, cafe or at your accommodation. Moroccans are hospitable people and one can get around with English and French in most areas. Pack a backpack, so do some research and head off on your whirlwind adventure-learn to ride a camel, cook a tagine, scrub yourself down at a local hammam and greet in the native languages. Reconnect with a simpler way of life in the rural villages so as to head home with newfound contentment.
Public transport is reliable and inexpensive. Most roads are in good condition and violent crime is not common. Petty theft like pickpocketing is problematic in the narrow medinas, so keep your wits about you. Being hassled to buy random souvenirs and then being overcharged is likely the worst 'crime' you'll experience in Morocco. Remember bartering is all part of the game, so don't be afraid to engage in some friendly haggling.
A woman traveling alone should be aware that they may be catcalled by men. Unfortunately, this is a societal problem. Remember to respect the culture by dressing conservatively and not engaging with such behavior.
If you are not limited by time then consider volunteering at one of many organizations in Morocco- teach English to locals, assist at an orphanage, or help empower women among others. Some include free food and accommodation in exchange for assistance. Websites such as Workaway and Helpx list multiple exchange programs in Morocco.
Group and organized tours in Morocco
Other travelers like structured itineraries and all bookings sorted before embarking on a holiday. These travelers tend to pre-book and read up on activities before visiting so as to maximize their time. This type of traveler would benefit from a group tour or personalized tour provided by a reputable travel company such as Desert Morocco Adventures. The benefits of such travel are that the traveler is not so much in charge of their holiday, but can purely relax and enjoy the experience. All activities, traveling, accommodation and food are organized by the hopefully friendly and capable tour guides. This provides a very stress-free way of traveling as it is someone else's responsibility to ensure your safety and wellbeing.
Anyone can plan a fantastic holiday in Morocco, however, time or monetary constraints, inexperience or a myriad of other reasons, can result in the traveler feeling overwhelmed. If you are struggling to make decisions regarding your Moroccan adventure why not contact a tour company. Many are happy to provide free advise if you have any pressing questions. Tour companies have perfected their itineraries and know exactly how long various travel and activities will take.
Group travel can work out cheaper as accommodation and activities are block booked. It provides safety in numbers and built-in friends for meal times. We have maintained really good friendships from previous group travel experiences. Group travel with strangers is a unique experience and something worth trying at least once. They are also good for providing a general overview of a country, highlighting the main places of interest. The downside to such travel is that you are restricted to certain departure dates and fairly generic itineraries.
---
Related Content: Reasons to choose a Moroccan customized private tour
---
Finding the tour company best suited to your travel requirements
Contact as many tour companies as you can, to get a feel for value and what should be included. I recommend using Google Search and TripAdvisor to get a list of companies and contact those that have the most positive reviews. Check out their social media to see if their style and clientele would be a good fit for you. A variety of tours of differing lengths, localities, and budget are on offer and tours can be customized to suit the individual. Many websites do not advertise prices upfront so keep a running document of expenses. Be cheeky and ask for discounts, sometimes out of season specials or paying upfront can save you a few bucks.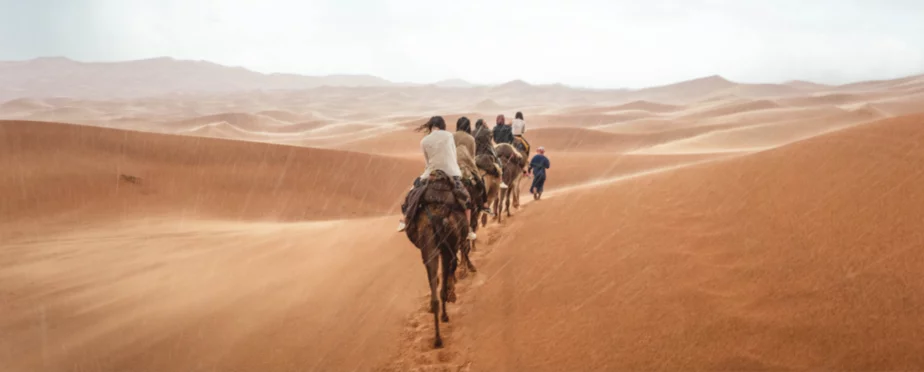 Our Moroccan travel style
We combined both self-travel and an organized tour for our time in Morocco. We based our itinerary on a friend's recent trip, adjusting for the season – we could only get leave in winter, so we'll save the coastal towns for our next trip!
We made use of trains, buses, taxis, and a rental car to travel between cities. (Our first time driving on the wrong side of the road!). We used Google Maps to navigate, although the narrow streets of the medinas don't show. Try asking at a hotel or information desk for a map of the area. We stayed in private Airbnb rooms in traditional houses with communal bathrooms and kitchens. This is very affordable and we met lovely people running these establishments as well as other travelers.
We used a tour company to take us on a four-day tour from Fes to Marrakech to experience the Erg Chebbi dunes. I am so grateful we chose to spend a little extra money and do a tour for this part of the trip. It's a long journey and being the middle of winter it was snowing along the way especially on Tizi n'Tichka pass. We had never even seen snow before let alone driven in it, and the little rented Hyundai i10 would never have managed. Our guide spent a good amount of time pulling over to help dig cars out of the snow.
It was also really nice to have a few days where we didn't need to check maps and confirm bookings and could really just relax. We thoroughly enjoyed chatting with our guide and driver and learned so much from them about their culture and country. We still remain in contact with our Moroccan friends. We also never felt forced to stop at tacky spots where it's clear they would get commission for bringing in tourists. They also ensured that we saw the macaque monkeys and even tried to find a fox to fulfill my desire to see all the animals!
As you can see there are travel options to suit all personalities in Morocco. For some solo travel is overwhelming-essentially you are alone in a foreign country where you might not be able to communicate effectively. You are reliant on yourself and the hospitality of others. This is a liberating and learning experience. If too daunting for your first visit, enlist the help of a tour company. I promise it will still be an authentic experience. Once you've gained confidence, you'll have even more reason to visit Morocco again!