By Meredith – Port Elizabeth, 13th November 2018. Yelling; foreign chatter; sellers haggling you for a sale; navigating the crowds; side stepping children, donkeys and cats; intoxicating aromas; colorful items leering you into the souks; meat being prepared fresh; artisans at work- exploring the medinas of Morocco can be exhausting. Traveling between cities, especially to visit the Sahara Desert, is a long and dusty journey. Most attractions are outdoors and Morocco is generally very hot, to which travelers might not be accustomed. Maybe you need to recover after a hike or rest your backside after a bumpy camel ride. Indulge in some pampering during your stay in Morocco, so as to head home enriched and relaxed. This article outlines some of the main stress relieving activities in Morocco.

Traditional Moroccan hammam
Hammams (steam rooms or bath houses) are an integral part of Moroccan culture. It's where people go to socialise, gossip, do business and even arrange marriages! Hammams have separate male and female sections, however those in hotels may cater for couples. For traditional women that wear the veil, the hammam is one of the only places where they can express themselves. There are multiple hammams dotted throughout all cities ranging from ancient designs, to really basic, and then luxury spas catering to tourists. Local hammams are a very different experience to those dedicated to tourists (stay tuned for a separate post on my experience at a local hamam).
When venturing through the medinas it's likely you'll come across souks selling the items required for a trip to the hammam. These include a little bucket, a scrubbing glove, black olive soap (which is a paste), argan oils, clay masks, various pumice stones for exfoliation and shampoos. These items can also be purchased at the hammam and are not needed at the more tourist orientated spas.
The general procedure is to first enter a warm steam room to adjust to the warm, humid conditions. Once acclimated you enter a hotter room where you can splash water on yourself and apply the natural olive soap. Use the scrubbing glove to exfoliate the body, or pay an attendant to help scrub you down (known as gommage). You'll literally emerge as soft as a baby, with every inch of you sufficiently scrubbed.
Entrance to a local hammam costs about 10 dirhams for use of the facilities and then additional if you want any treatments such as exfoliation or massages. Most hotels have their own spa facilities or read through reviews on TripAdvisor and Google Maps to find nearby hammams. We recommend the following places:
Hammam de la Rose
Spa La Mamounia
Spa at Mandarin Oriental
Sultana Spa
Royal Mansour hotel
The Clarins Spa
Spa MK
Les Bains de Marrakech
Heritage Spa
The Spa at Amanjena
Hammam Rosa Bonheur
Berber massage
Berber massage has been practised by the nomads for the longest time. After a day of traveling under the hot sun or during the cold winters. Berbers would relax their tired muscles with massage. This practise has been passed down for generations and is still common place in Moroccan households and a complete treat to holidaymakers.
To get the mind and body ready for relaxation the feet and legs are first washed in warm water infused with herbs, and a refreshing herbal tea is served. The body is then massaged with heated argan oil to which different essential oils have been added according to the objective sought. Argan oil produced locally in Morocco nourishes and protects the skin and essential oils release perfumes as they diffuse. The masseur can apply varying pressure for deep tissue massage.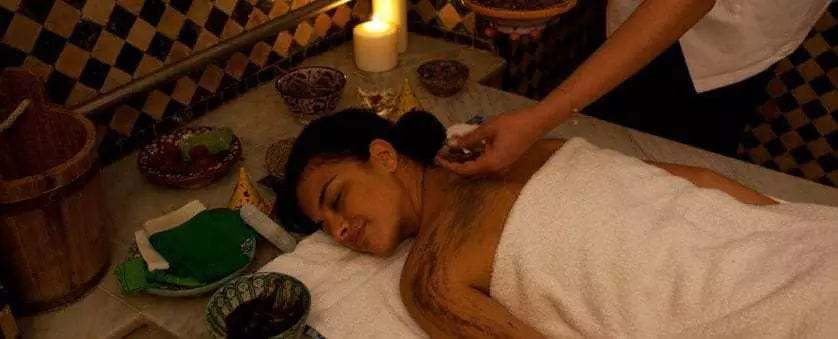 ---
Related Content: The Most Romantic Things to Do in Marrakech
---
Moroccan sand baths
For those looking to experience something unusual, travelers in the Sahara Desert can enjoy the myriad of health benefits associated with a sand bath. This treatment is the best in the hottest months of July and August. A hole is dug in the sand in the morning and allowed to heat up. The person is then buried neck deep in the hot sand for 10-30 minutes and given water to prevent dehydration. Similar to a sauna, this ancient therapy is said to assist with rheumatism, lumbago, polyarthritis and some skin disorders. If you have any health concerns, check with a medical professional before undergoing this treatment.

Eat yourself well
Moroccans eat fresh, healthy food bought daily from the markets. Many of the ingredients in Moroccan food promote good health with various herbs and spices used for flavor rather than deep frying. Moroccan diets consist of lots of salads, chickpeas, whole grains, vegetables and dried fruit. Fresh fruit is typically served after meals instead of unhealthy desserts.
Camel milk is popular and is reputed for benefits for diabetes, anaemia and digestive tract problems. Natural medicine is ingrained in Moroccan culture especially as a preventative to common illnesses. Frequently used herbs and spices include turmeric, ginger, cinnamon, nigella or black seeds (sanouj), cumin and cayenne.
Sit back and relax
If none of these activities appeal to you then enjoy your time at the many rooftop restaurants. Sit back, sip some mint tea and watch the world pass by. You might notice that at many cafes chairs all face the street so that local patrons can enjoy the free street TV. Most cafes rent shisha (hubbly), an enjoyable activity with friends. Another firm favorite of the locals in the afternoon siesta, so don't forget to fit in some time for a good nap!
Take a stroll through beautiful gardens, such as Le Jardin Secret in Marrakech, an oasis in the busy medina, where you'll find locals picnicking with their families.Take a book with, find a secluded spot to take in the sites and sounds of nature. Most hotels and riads have pool areas, that in the heat of summer, are a welcome reprieve. Head out to the fabulous coastal resorts for a relaxing time frolicking in the sea or chilling at deck chairs around the pool. Yoga retreats are also becoming popular in Morocco, imagine downward dogging to the rising sun in the desert!
As you can see there are quite a few activities in Morocco designed to encourage total body and mind rejuvenation. Balance play, exploring and relaxing during your holiday in Morocco. Come home refreshed and purchase some argan oil products to keep you looking good year round.