London is known for its lovely warm sunny skies and blue and white fluffy clouds?… Sounds about right?…. Yep, you've guessed it I'm only kidding. Although some may say that London it is ONLY known for its damp dreary weather, and dull sky, I couldn't agree more to a certain extent. However, that's not always true! Us Londoners do also experience sunshine and rain too. In a sense, we are blessed with most of the different seasons and weathers, as opposed to other parts of the world, where it's just only sunny and hot, or like the north pole… well, the name is pretty self-explanatory in terms of what the weather is like over there!
Anyway, I'm trying very hard not to defend London, but trying my best to stay neutral. Yes, it is true that during winter times you hardly see the sun!… But what do you expect its winter!!!
Moving on I also believe a lot is to do with mindset and thinking. From a young age, my parents always said that, whatever the weather, always be grateful! So, when I ever did moan about the weather when it's pouring with rain, my mother would say, "think of others that are benefiting from this rain. Rain can be a blessing to others", Although it was very hard to swallow the truth in my younger days, now I really see the wisdom behind this.
So where am I going with this?… Well, what I wanted to proclaim is that now and only now, have I started not to bother what the weather is like. Don't get me wrong I still have my moan, but I now actually go and face my fears or actually make myself get out of my comfort zone. By that, I mean maybe going out in the cold winter months lol!! Yep Princess Me has decided to get out of hibernation officially!
What has that got anything to do with the cold weather?… Well, just recently I made a trip to a very very bitterly cold place indeed. No, it was not the north pole, and nor was it the Antarctic! Fortunately, it was somewhere in London. Now I know what you're thinking, that London is Icey cold anyway, so therefore I must've gone to my backyard lol!
Anyway, moving on to where I visited, well I made a trip to the Belowzero Ice club, which is an ice bar essentially.
So where is it, well it's in the heart of London, basically central London. With no car parking facilities whatsoever, however, if you do fancy a longer walk, you can park it much further where there is access to car parking.
Chilling at the newest craze in London- Belowzero
Well, firstly I went for the novelty of it, not for the drinks or alcohol, since I don't drink. I just wanted to experience the next best thing to the Ice Hotel in Sweden.
Although Belowzero doesn't accommodate or have any stay over facilities, they are something completely different.
Belowzero is more of a one day visit to do from your bucket list just for the experience. -Not exactly that, but close enough!
So how did I get there and what did I do; First of all, anyone wishing to go to the below zero ice place needs to make a booking via online, where you get to choose the times too.
The day times are slightly cheaper as opposed to the evening times, which are slightly more expensive. Do check on the day of booking.
The nearest station is Regents Street, not too far from it, since my geography skills are horrendous I will leave out the directions! I have my virtual walking sat nav with me, my blessed chauffeur, so I was okay and knew I'll be taken care of, hence why I didn't worry about the directions.
There is a fee on entry, I don't want to say what the fee is as yet, since whilst writing this it's very easy for the fees to change.
Upon entering, you're greeted by a receptionist. On your left, you'll see a nice restaurant.  Once greeted, you'll either give your name or booking ref.
Next, you would need to que up, there is a small briefing that needs to be done. Once the briefing is done, cloaks and mittens are given. Once the cloaks are worn you are free to enter, normally it's a group of people going in together in batches.
Once you enter the ice room, the cold bitterly breeze hits your face. Not in an unpleasant or gush manner, but so you can definitely tell the difference in the temperature. So, the first impressions. Its dark, but still light enough to see everything, next there are great ice artefacts carefully sculpted. It was such a pleasant site, very quirky and artistic. It was a something that I did not expect, so it definitely impressed me.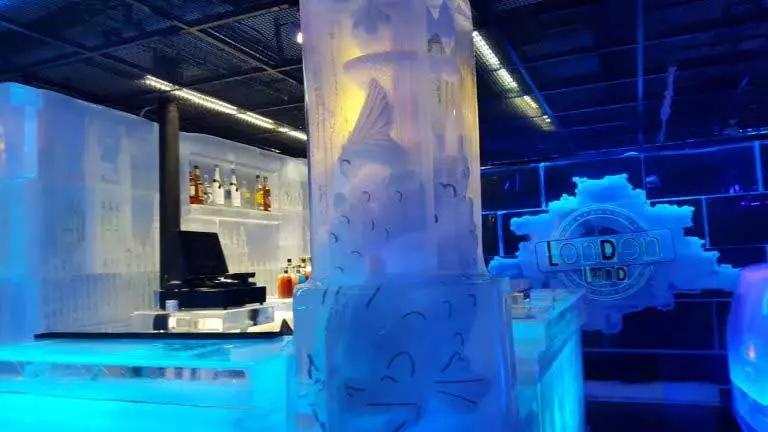 Next, the room itself is very small, not too big, it'll only accommodate maybe 20-30 in one go. Your ticket allows you to stay for a maximum time of 45 minutes, then either you'll need to purchase a new ticket or leave. Trust even the 45 minutes is long enough if you have an allergy too cold like myself.
So once inside, you'll notice the bars, ornaments and statues all made from ice. Be careful not to touch with bare hands, it will stick!… Trust me tried and test! Now I live to tell the painful tale!
They'll also give you a glass that is made of ice only, yes, ice! It's also crucial not to dispose of, which they tell you too unless regulations change. But they strictly instructed us not to dispose of the glass but to use again should you wish to purchase a drink again!
As for the drinks, since I'm a non-alcoholic drinker, I opted for the mocktail options. To be honest they tasted pretty good and chose to purchase a second drink too. It does get pretty busy near the counter when ordering drinks. I tried to make most of my time whilst waiting to take some pictures.
Overall my experience at Belowzero has been a positive one, I have noticed that many people did take young children which were lovely to see. The atmosphere was a family friendly vice. Youngsters can only have mocktails and no alcoholic drinks, and they must be accompanied by an adult. I did find the 45 minutes for me to be more than enough time, it was pretty cold.