Desert Tours From Marrakech – Marrakech Tours
Most of our desert tours start from Marrakech. With beautiful landscapes, rich historical and cultural heritage, Marrakech offers visitors everything they could wish for, from desert trips to relaxing getaways. Rue Guéliz offers you a modern infrastructure, and international and luxury brands boutiques along wide avenues. Enjoy the beautiful Moroccan architecture by visiting the neighborhood of the old quarter Jemma el-Fna and the nightlife of Marrakesh by visiting the trendy and traditional evenings that show the joy of living in Marrakesh. Walk around the old medina with its small crowded streets with graceful colors and oriental fragrances.
Desert Tours from Marrakech
On this page, you will find all the tours that we organize daily departing from Marrakech. One of the most famous tours that we organize daily is a three-day desert trip to the Sahara desert. It is also possible to customize your Marrakech desert tours to suit your needs, even if you share the tour with your friends.
If you're having any difficulty with planning your desert tour or there's something that isn't clear, please don't hesitate to drop us a line. Our team is happy to help you and will answer all questions you might have as soon as possible.
Desert Morocco Adventure's mission is to make your travel planning as simple and easy as possible. We are here to listen to your proposals and suggestions and we will be happy to create a suitable offer for your Marrakech tours that matches your preferences exactly.
Please note that Desert Morocco Adventure organizes only private Morocco tours.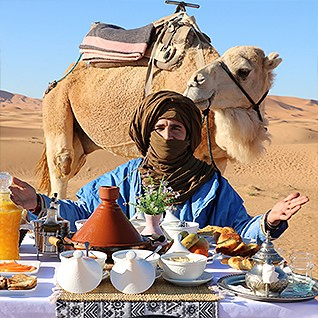 ---
Popular Desert Tours from Marrakech
You can expect excellent quality at a very competitive price at Desert Morocco Adventure. We are happy to organize your desert tours from Marrakech. Desert Morocco Adventure also has other tailor-made tours available to various locations in Morocco. We also organize outdoor activities and day trips from Marrakech that can be booked all year round. If you book your hotels and everything, Desert Morocco Adventure can rent you an air-conditioned 4×4 vehicle (with our driver).
Do you need a tailor-made desert tour from Marrakech? Our travel experts are happy to help you put together an excellent program route in Morocco. Check out our most popular tours from Marrakech below:
Desert tours from Marrakech Highlights
All our desert tours from Marrakech include a camel ride and an overnight stay in the desert. The desert tour starts with a pick-up from your accommodation in Marrakech and we will drive to the famous Kasbah of Ait Ben Haddou, a UNESCO site and very popular in the cinema industry as there are many popular movies shot there. Before reaching the Kasbah, you can also enjoy the beautiful panoramic view of the High Atlas Mountains.
If you choose the Erg Chebbi desert tour, we will head to the Dades Gorge through the Valley of Roses after visiting one of the cinema studios in Ouarzazate. There you will spend your first night in a charming accommodation in the middle of the Dades Gorge. The next day we travel to the Todgha Gorges where you can take a short walk.
Later we head towards Erfoud and Merzouga where the camel guides are waiting for us. When we are ready for a camel ride, you will ride a camel to the desert camp before sunset. At the desert camp, you can climb the highest sand dunes to enjoy a spectacular sunset. At night you will sleep under millions of shining stars if the weather permits otherwise it will be in a fancy tent with a bed and bathroom.
The next day, after enjoying the sunrise and a delicious breakfast, we will head back to Marrakech along the Draa Valley with its palm tree forests and the High Atlas Mountains.
Interesting places to see during the desert tours from Marrakech
Tizi-n-Tichka:  Tizi n Tichka is a mountain pass in the High Atlas Mountains between the city of Marrakech and Ouarzazate. It is also known as the gateway to the Sahara. The mountain offers stunning panoramic views
Kasbah Ait Ben Haddou: Ait Ben Haddou is an old Berber village with fortified kasbahs. The site has been recognized as a UNESCO World Heritage Site since 1987. Many well-known movies were filmed in this area like Gladiator.
Roses Valley:  As the name suggests, this valley is known for rose cultivation and beauty products. Roses are scattered along the road to Dades Gorge. Every year, the nearby town of M'Gouna hosts a rose festival in the heart of the town.
Dades Gorges: Dades Gorges starts on the left side of the road at the entrance to the town of Boumalne Dades and leads for about 45 kilometers through giant red rock formations and cliffs about 200 to 500 meters high. Along the way are oases and small villages with kashas of reddish colors. The area offers many stunning viewpoints and magnificent rock formations.
Todra Gorges:  This spectacular canyon is a 600-meter-high gorge in the Atlas Mountains near the city of Tinghir. Todra Gorge is famous for rock climbing.
Erg Chebbi: Erg Chebbi is a series of high sand dunes. It is located near the Berber village of Merzouga and is known for its beautiful orange dunes. Several tour companies offer camel rides and overnight stays in an elegant Bedouin camp in the middle of the desert. The desert also offers beautiful sunsets and a clear view of millions of bright stars at night.
Draa Valley: The Draa Valley is the longest valley in Morocco and is home to beautiful oases with palm trees, Berber villages, and many kasbahs along the way.
Tailor-made Desert Tours from Marrakech
Your desert tours from Marrakech starts here, you can start your journey anywhere in Marrakech. We are here at Desert Morocco Adventure to help you plan and organize tailor-made desert tours from Marrakech. Our desert tours can always be adapted to your needs, allowing you to discover all the places you want to visit in Morocco. From the Imperial city breaks to guided desert adventure tours, you can plan it all with our experienced team. Our team will be happy to help you unravel the magic of Morocco and discover its history and culture. We also offer 4WDs for hire with drivers happy to assist you during your journey.
FAQ - Desert Tours from Marrakech
What They Say About the Guide of Desert Tours from Marrakech
Icho is a dedicated and knowledgeable tour guide. He took us to the most hidden and authentic places in Morocco & gave us a deep understanding of the culture, people, and food. I would recommend anyone to travel with Icho for their next trip to the desert in Morocco.


Youssef was our guide in Morocco. He was a great guide who took us through southern Morocco and to the most famous sites and attractions. He is very knowledgeable about the history of Morocco as well as in-depth information about the animal life and plants of this amazing country. He was always energetic and happy to answer our questions.


We had a great experience with Youssef in Morocco. He took us from Marrakech to the desert on a 3-day trip. He shared with us a lot of history and knowledge about the culture of the country. We loved his stories about the way of life of the Berbers, especially the funny ones!