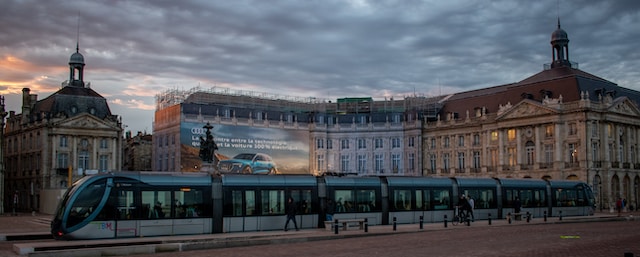 Explore the Best of Bordeaux
Bordeaux, the wine capital of France, is a city that's filled with culture, history, and, of course, delicious wines. With its beautiful architecture, charming streets, and world-renowned vineyards, there's no shortage of things to do and see in this stunning city. Here are some of the top things to do in Bordeaux:
Visit the Iconic Place de la Bourse
One of the most recognizable landmarks in Bordeaux is the Place de la Bourse, also known as the Place Royale. This historic square, which was built in the 18th century, is located on the banks of the Garonne River and is surrounded by stunning architecture. Don't miss the chance to take a stroll around the square and admire the breathtaking views of the water mirror.
Tour the Historic Wine Cellars
Bordeaux is renowned for its wine, and there's no better way to experience it than by touring the historic wine cellars. Many of the vineyards in the region offer tours and tastings, allowing visitors to learn about the winemaking process and sample some of the best wines in the world.
Explore the Gothic Cathedral of Saint-André
The Cathedral of Saint-André is a stunning Gothic cathedral that's been standing since the 13th century. The cathedral's architecture is breathtaking, and its rich history is fascinating to explore. Visitors can take a tour of the cathedral, climb to the top of the tower for panoramic views of the city, or attend a classical music concert in the cathedral's nave.
Take a Stroll Along the Garonne River
The Garonne River is the heart of Bordeaux, and a stroll along its banks is a must-do activity. The river is lined with beautiful architecture, including the iconic Place de la Bourse, and there are plenty of restaurants and cafes where you can relax and enjoy the scenery.
Visit the Musée d'Aquitaine
The Musée d'Aquitaine is a must-visit for anyone interested in the history and culture of Bordeaux and the Aquitaine region. The museum's extensive collection covers everything from prehistoric times to the modern era, including art, artifacts, and historical documents.
Discover the Beautiful Jardin Public
If you're looking for a peaceful escape from the bustling city, head to the Jardin Public. This beautiful park, located in the heart of Bordeaux, features lush gardens, walking paths, and a tranquil lake. It's the perfect place to relax and recharge after a busy day of sightseeing.
In conclusion, Bordeaux is a city that's packed with history, culture, and delicious wines. From exploring historic landmarks to touring vineyards and enjoying beautiful parks, there's something for everyone in this stunning French city. Plan your visit today and discover all that Bordeaux has to offer!