Private Marrakech Desert Tours
Private Marrakech Desert Tours is one of the best activities to do in Marrakech in addition to a day trip to Ouzoud and Ourika waterfalls. The Sahara Desert is 561 km from Marrakech.
You merely need to fly a couple of hours, however, you wind up in a very different world: should you travel to Morocco, you may be amazed by diverse landscapes, amazing oases like the valley of roses, Moroccan cuisine, and hospitable people. One moment you end up in the wild Atlas Mountains, another day you look out over the Mediterranean Sea or the Atlantic Ocean on an enchanting shore, and after you end up in the middle of the Desert. It's not possible to get bored while traveling in Morocco!
During our private Marrakech Desert tours, you will certainly not be bored! You have the opportunity to cross the wild Atlas Mountains, where the number of fantastic panoramas cannot be counted. In the yellow-red dunes of the desert, you can take a camel ride and spend the night in a desert camp.
Marrakech Desert Tours
Morocco is regarded by many travelers from all over the world as the greatest desert excursion destination. The rocky landscape, vast rugged plateaus, lush green oases, valleys with roses, canyons, and sandy desert, all fill out the sensations and guarantee you a fantastic desert journey full of adventure. In addition to fortified Berber villages, Kasbahs and well-maintained nomad camps in the middle of the Sahara.
Enjoy delicious Couscous and tajine dishes, and taste the atmosphere of Aladdin. You are more than welcome in Morocco: the population is known for its hospitality. During our Marrakech desert tours, you will, of course, have enough time to explore the best of southern Morocco, with its colorful souks, mosques, and gorgeous oasis. You explore the kasbah Aït Benhaddou which is a UNESCO world heritage site, the beautiful Dades valley, and experience the Sahara optimally among the orange sand dunes of Erg Chebbi.
Our Marrakech Desert Tours added value
Our added value is specialized guide/drivers who know the Moroccan Sahara desert very well, speak your languages and are generally friendly and attentive.
Our Sahara Desert accommodation and restaurants are inspected regularly to ensure the highest quality for your Marrakech Desert Tours.
Marrakech Desert Tours price guaranteed
Whether you traveling as a couple or with children, our Marrakech Desert Tours costs are well controlled, and we ensure they're the very best in the current market, supplied by a registered Morocco tour operator company. We promise to refund if you find a much better Morocco desert tour cost provided with the exact same value. Please check our terms of service.
Should You Book a Morocco Sahara Desert Tour in Advance?
No, but it's better to book your Morocco Desert Tour ahead so that we have enough time to arrange everything from accommodation to a camel ride.
Do you want to combine a Marrakech desert tour with the other tour, for example, the tour of the imperial cities? We have a 6-day itinerary that also connects the imperial cities of Morocco and the Sahara. We will gladly adjust your desert tour of Morocco to suit your wishes and needs.
Marrakech Desert Tours Driver/Guide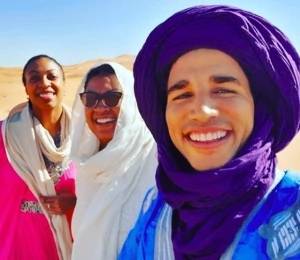 Youssef is a Berber man, born and raised in the desert. He is a professional driver/guide with over 10 years of experience guiding travelers through the desert. He happily shares funny stories, facts, and everything that has to do with Morocco. He will be happy to guide you and show you the best of southern Morocco.