Casablanca Tours and Trips
Desert Morocco Adventure organizes day-to-day tours from Casablanca which you can reserve anytime you request. The tour can also be adapted and adjusted to our customer's demands and desires. Casablanca is one of the most attractive cities in Morocco to see. It's not only the magnificent spots that are charming travelers from over the globe but also the culture and the architecture. Speaking of local architecture, we must mention the biggest mosque Hassan II, which is the second biggest mosque in the world. While you can travel to Morocco in a group, sometimes the best journeys are those you take with your loved one.
We offer a range of tours which are starting from Casablanca such as the tour of the imperial cities. Since the biggest airport in Morocco is located in Casablanca most of our tours can start within Casablanca.  We also have a full-day guided tour in Casablanca. The tour includes a city guide who will take you around and show you the best of the town, including the oldest quarter in the city which is known as Medina. We must also point out the jews quarter known as Mellah.
If you would like to book one of our tours from Casablanca and you have special wishes, we recommend you to contact us beforehand. We, can, of course, organize all your Moroccan tours with departing from all over Morocco. All our Casablanca tours can be adapted and adjusted to suit the needs and desires of our clients.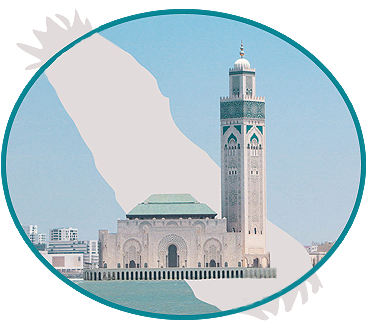 Trips from Casablanca
If you are attracted by our Casablanca trips, please feel free to contact us or you can reserve the trip directly on the tours page. If it happens that your choose to book via email our agent will ask you for a 21% deposit before he approves the booking. For more information about the security deposit, please check our terms of services. The tour will be confirmed after we received the deposit via PayPal. You also will receive a booking number which you can refer to when you have any questions regarding your tour.
Casablanca Tours includes
It depends on the tour you choose. All our Casablanca tours include all pick-ups and drop-offs, an airconditioned car which is permitted by the Moroccan Ministry of Tourism, fuel, and a driver/ guide.  If the tour is more than one day the accommodations will be included, please check your tour page for more information. Bear in mind that lunch and drinks are not included in the price of our tour otherwise it is mentioned on the tour page.
Private Casablanca Tips
All our trips from Casablanca are private. You travel only with your driver/ guide who speaks English and in a comfortable car. We, of course, don't subcontract our services. That's one of the whys and wherefores that we don't arrange any shared tours. If you wish a tour from another location in Morocco that's also possible as we organize daily tours from everywhere in Morocco such as desert tours from Marrakech.
---

Visit Hassan II Mosque
Visit the old medina
Visit Ville Novelle
Explore Casablanca

---

---

Visit The Imperial Cities
Explore The Medina of Fez
Visit The Ait Ben Haddou Kasbah
Explore The South of Morocco

---

---

Visit The Imperial Cities
Explore The Medina of Fez
Visit The Ait Ben Haddou Kasbah
Explore The South of Morocco

---
Sahara Desert Tours from Casablanca
The Sahara Desert tours from Casablanca are available every day.  The Sahara Desert tour may start at your accommodation to the direction of Marrakech, depending on the tour you are choosing. From Marrakech, we head to Ouarzazate via the High Atlas Mountains to visit the Kasbah of Ait Ben Haddou which is a UNSECO site and a very famous attraction across Morocco, thanks to the popular movies that have been recorded here such as Gladiator.  After the visit to this incredible Kasbah, we head to Dades valley. This valley is also known as the valley of 1000 Kasbahs and Valley of Roses and this once was a very important trade road.
During the desert tour from Casablanca, we will also visit the gorges of Dades, gorges of Todra, and the desert.  In the Sahara Desert, we will have a short camel trek in the middle of the sand dunes of Erg Chebbi, overnight in a nomadic desert camp, and witness the sunset on the dunes. The tour continues further to Fez, Meknes, Chefchaouen, and then back to Casablanca where the tour ends. On our website, we also have tours that start from Casablanca and goes to Rabat, Chefchaouen, Fez, the desert then to Marrakech. If you do not find a tour that suits your needs, you can always get in touch with us. We will be more than happy to assist you to create an ideal itinerary.
Below you find more of our tours from Casablanca:
–  Tour in Morocco: 6 Day Morocco Imperial Cities Tour
– 11 Days Tour of Morocco – Casablanca to Marrakech
– 14 Days Imperial Cities Tour,  Morocco
– 1 Day Trip from Marrakech to Casablanca
Casablanca Tours Guide
If it's just for one day, you will be guided by a certificated city guide. If it's more than one day, you may be guided by Icho and by a city guide in cities. Icho is more specialized in guiding tourists in the desert. He will be happy to assist you and guide you around. You may read about him on the "About Us" page or on our TripAdvisor page.
Things to do and see in Casablanca
MORE

Most of you must have been very familiar with the city of Casablanca in Morocco yet only a few of

MORE

Will you be off for several days from your works? It seems that you have to get vacation time. You

MORE

If you are planning to travel to Casablanca, on our Tour from Marrakech to Casablanca page we have a brief