Aragon is one of the world's most beautiful regions in Spain to travel to and enjoy. It's not just the scenery that's so breathtaking but also the food and its activities. While you can travel to Spain in a group, sometimes the best trips are those you take with just a few friends.
With all that to explore, how to reach each area and get the full enjoyment out of it? It boils down to doing things that don't involve spending much money, such as hiking, visiting the cathedrals, and getting into the water.
Of course, you may be wondering what to do there. Believe it or not, you can travel easily around in the region, as there are a lot of things to do and see, but you need to do some research about the area before your trip for you to know what to expect. Keep in mind that most attractions and shops are closed from 14:00 until  16:00. In this post, I will list some activities and attractions I have done/seen.
Roda de Isábena
Roda de Isábena is one of the original cities in the county of Ribagorza from the Crown of Aragon and is located near the Isábena river.  It is one of the few smallest villages in Spain to have a cathedral which was destroyed in the 10th century. The cathedral was rebuilt between 1053 and 1067. There you can admire the cloister, the sarcophagus of San Ramón, and the High Reredos. The old refectory is now a restaurant. Of course, the visitors are surprised that such a very small "town" could house an Episcopal See and still stand in our days. In the context of the 10th century, with the creation of resistance groups to fight off the Arabs in the area of the Pyrenees, we can understand the reason for the existence of the building in this area.  In addition to small streets and buildings, we must somehow point out the great natural surroundings.  The area is home to the most impressive landscapes of the Spanish Pyrenees and is very popular with hikers, motorcyclists, and nature lovers. The town is a start point for the excursion to nearby valleys and waterfalls such as Bisecas. You can even hire a BMW motor in Camping Bungalowpark Isábena in the nearby village La Puebla de Roda.
Valley de Añisclo
This uninhabited valley in the National Park of Ordesa Y Monte Perdido is beautiful. It is rougher and wilder than the Ordesa Valley and larger than the Valle de Tella and the most visited. Visitors come here to admire the most spectacular attraction, the Canon of Añisclo, a narrow, deep beautiful gorge carved out by a glacier from Monte Perdido. You can reach the gap by car, then continue on foot.
The valley is easiest to reach by car from Ainsa, via the village of Escalona on the HU631 in a westerly direction. You will first pass the Rio Vellos and an old medicinal hot spring. Then you get to taste the intriguing mountains of Desfiladero de las Cambras, an explanation of the Añisclo gorge, and the forest of Velloso. The road to the Añisclo gorge is spectacular and consists of a ridge in the rock face. After about 12 km the parked cars mark the start of the Añisclo gorge. From here you can all continue on foot.
The walk through the gorge Añisclo
The trail through the gorge, parallel to the Rio Vellos, is not easy considering the often sharp turns and steep descents. A path leads down from the parking place. Over a Roman bridge, high above the Vellos and Aso rivers, a ridge follows where a cave has been converted into a chapel, the Ermita de San Úrbez. The walking route is completely clear with signs.
Visit the castle of Loarre
The area around Huasca is strewn with old city renowned. The castle of Loarre, located 30 km to the north of Huesca, is a beautiful representation of this. It is situated in a beautiful rocky area and on the way, there are numerous orchards with almond trees.
The castle is considered the most important Romanesque fortress in Spain and is one of the best-preserved Romanesque castles in Europe. The impressive citadel stands on a rocky hill overlooking the plain and with its back to the mountains. The citadel was built in the 11th century by order of King Sancho Ramirez I. It was built as a defensive site against the Moors. Later in the same century, it also became the monastery of the Augustinian order. A little later, around 1287, the outer wall was built. The entry is not free, it costs around € 5,50 for adults and 7 euros for a guided tour.
Sierra y Cañones de Guara
Northwest of Huesca is another amazing natural park, namely Sierra y Cañones de Guara. This area is well-known for being the place for water sports activities. These activities allow you to escape the hustle and bustle of other towns/cities and enjoy some time and relax. The area is well known for its 70 cañons, with pinkish-red rocks. You can even find prehistoric rock paintings nearby Columgo. Also worth a visit is a walk around the Peña Falconera near the little village of Morrano.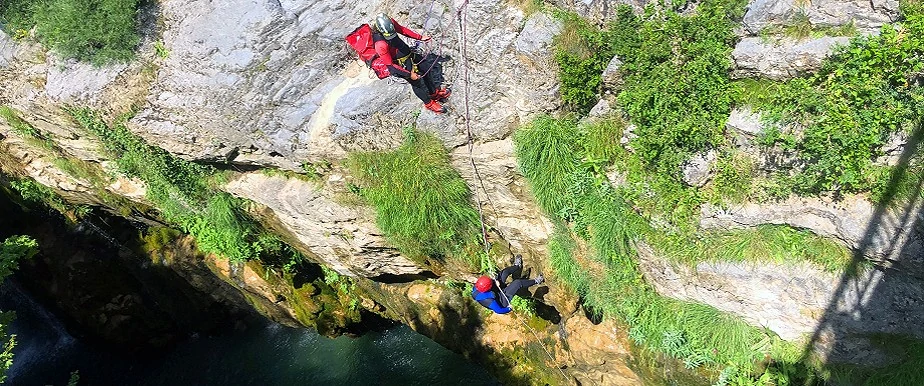 And, if you love rafting, there is an area about an hour away from Roda de Isábena that's called Campo that is very popular for this kind of watersport. On the way to Campo, you will also find a place where you can go for quad rides.
Valleys and Gorges
This region is a paradise for moto bikers. No matter what your favorite activities are, somehow you will find satisfaction. The unique mixture of nature and marvelous sights attract many adventures from all over the globe. In this extensive area, all kinds of sports and activities one can ask for are available, from hiking, biking, climbing, horseback riding to rafting. You will find your ideal activities.
Below are a few very near valleys and gorges:
La Puebla de Roda
The Sierra de Sis
Obarra
---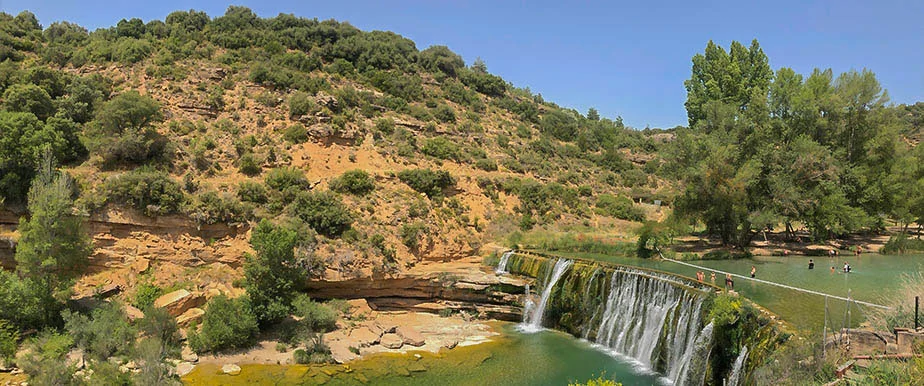 Bathing in El Salto De Bierge
El Salto De Bierge is a river with a waterfall close to the idyllic village of Bierge, 41 km from Huesca capital, by car it may take around 1 hour. It is considered one of the best places in the area where you can swim or bathe while you encounter nature, this valley is an excessive tourist attraction reference in the area, as it attracts many tourists during summertime. The dam is around 10 meters high.
During our visit to this dam and valley, it was not busy. We spend around 3 hours in this spot, enjoying the clean and fresh air and water as it was 38 degrees. The entrance fee is 2 euros.
This river is part of the Sierra de Guara Natural Park. Most of the visitors are hikers and adventure sports lovers who like the descent of ravines since the Sierra de Guara Natural Park is a world reference in the practice of canyoning.
Delectable Dishes Do You Need to Try While Visiting Aragon Region
When it comes to world-traveling – there is the one constant must-thing everybody should not miss. They need to learn about the culture and to try the flavors of the area of wherever they are going. And, if you're traveling to the Aragonese Pyrenees, you're going to be in for an enjoyable treat that no other places have been able to master. Spanish dishes are certainly worth giving a try with the amazing ingredient combinations and seasonings. Aragon is also known for a wonderful fresh mixed cheese such as Tronchon.
Irrespective of where you go in Aragon, you need to give the area dishes a twizzle. After you've done it, you may recognize that people here often rely on meat on all events. What are some widespread Aragon dishes you can find when you visit this countryside?
Pollo or Cordero al Chilindron
This dish is consisting of chicken or lamb cooked in a typical way in a sauce made of red peppers, tomato, garlic, and jamón serrano. Unlike part of Aragon, they may use a variety of meat. It's a very modest dish that you can make yourself easily but a very tasty one should try it in Aragon.
Longaniza
You may already know that Spain is well-known for its special sausages. Longaniza is very similar to chorizo and very popular in the Aragon area. It consists of pork mixed with various herbs and spices. it's a great dish for a snack. Longaniza tastes delicious, recommended to serve it with amigos.
Ternasco Asado
Ternasco Asado is another traditional dish cooked with young lamb meat. The lamb meat is oven cooked with spices. What comes out at the end is a delicious piece of meat that has absorbed the simple spices it was mixed in and will melt in the mouth. Transco Asado is usually served with fries or salad.
Bacalao al ajoarriero
Bacalao al ajoarriero is one of the most beloved dishes in Aragon. This delicious dish consists of a cooked salt cod with a sauce known as "ajoarriero", which is made in a typical way from potatoes, onion, garlic, and beaten eggs. This dish is popular in entire Aragon.
These are just a few of the many dishes you need to try in the Aragon region such as in Roda de Isábena, to sink your teeth into.
I will keep updating this post with interesting things to do!
Have a great time in Roda de Isábena!