Desert tours from Casablanca – Casablanca Tours
Our desert tours from Casablanca provide the ultimate experience to discover the best of Morocco. Casablanca, the country's economic capital, is known for its wide boulevards and busy shopping malls. On all of our Morocco tours from Casablanca, we pick you up at Mohammed V International Airport or at your accommodation and head to explore the South East of Morocco which is known for its enchanting valleys and breathtaking landscapes. The very busy airport, where most international flights land, makes Casablanca an ideal starting point for a great tour of Morocco. It is particularly suitable for exploring the imperial cities of Morocco and discovering Marrakech and Rabat. Casablanca is also ideal for several Moroccan trips that can take you to the country's famous mountain towns, and the desert Berber villages in the south, including the beautiful untouched desert sand dunes of Erg Chigaga and Erg Chebbi.
Desert tours from Casablanca
On this tour page, you'll find all the trips we organize daily from Casablanca. One of our most popular day trips is the 4 days desert tour to the Merzouga desert. It is also possible to customize your Casablanca desert adventure according to your needs and expectations. Our team is happy to help you organize an unforgettable trip if you have difficulty with planning. Our mission is to make your planned journey wonderful and well-organized. We welcome all your suggestions and suggestions.
Please note that our team only organizes private tours in Morocco.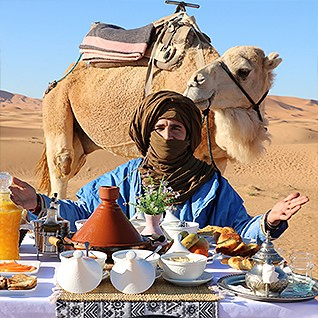 ---
Popular desert tours from Casablanca
You can expect excellent quality at a very competitive price at Desert Morocco Adventure. We are happy to organize your desert excursions from Casablanca as you wish. We also have other tours tailored to different cities in Morocco. We also organize great outdoor activities that can be booked all year round.
Need a tailor-made desert adventure trip from Casablanca? Then you've come to the right place! Our travel experts will be happy to assist you in preparing an excellent Morocco travel itinerary. Check out our most popular tours from Casablanca below:
FAQ - Desert tours from Casablanca
What They Say About the Guide of Desert tours from Casablanca
Icho is a dedicated and knowledgeable tour guide. He took us to the most hidden and authentic places in Morocco & gave us a deep understanding of the culture, people, and food. I would recommend anyone to travel with Icho for their next trip to the desert in Morocco.


Youssef was our guide in Morocco. He was a great guide who took us through southern Morocco and to the most famous sites and attractions. He is very knowledgeable about the history of Morocco as well as in-depth information about the animal life and plants of this amazing country. He was always energetic and happy to answer our questions.


We had a great experience with Youssef in Morocco. He took us from Marrakech to the desert on a 3-day trip. He shared with us a lot of history and knowledge about the culture of the country. We loved his stories about the way of life of the Berbers, especially the funny ones!