General Info About Casablanca -  Casablanca Travel Guide
When it comes to planning a Moroccan tour, you should never miss out on the city of Casablanca from your list. This is the largest city in the country and actually has so many things to offer to every visitor. You can find this very popular Moroccan city in the western part of the country. With an approximately 3.1 million population, Casablanca has turned out to be the main center of commerce and business in this beautiful country. This city is also known for its religious sites including the Hasan II Mosque. This historical mosque is well equipped with a very tall tower. In fact, it is the tallest minaret in the world.
Being the center of the business and commerce aspects, this city is now home to all the important facilities in the country. There are innumerable international companies that establish their representatives in this city. Casablanca has turned out to be the economic capital of Morocco and it should not be too surprising to see the city is well supported by excellent roads and railways. All those well-improved public facilities have made it well connected to every corner of the country. You can also find one of the largest artificial ports on the planet in this city.
The Moroccan government has also used that site as the primary naval base for their Royal Navy. Morocco is known for its phosphate, its largest export product. Casablanca plays an important role in this matter as the Port of Casablanca is considered to be the main administrative center for the trade of that vital commodity. Other than that, Casablanca is also very famous for its beer, automobile manufacturing, soft drinks, electronics, glass, bricks, leather work, textiles, and cigarettes. There are an array of interesting tourist attractions in this particular Moroccan city. The old medina wall and streets, the port of Casablanca, Hassan II Mosque, and Sidi Mohammed Ben Abdallah Boulevard would be only a few examples of fascinating sites in the city of Casablanca. There are many other interesting sites that attract more and more people to come to this city every year.
The Berbers were known as the original settlers of Casablanca. They are predicted to start settling in the region since the 7th century. Throughout history, Casablanca has played a number of important roles especially when the second World War took place. This city was known as an important base for the American air force. This region was very vital to the United States in running its European operations. In 1943, this place was considered the right venue for a crucial conference later known as the Casablanca Conference. In this particular conference, Winston Churchill discussed very important issues regarding World War II with Franklin D. Roosevelt. With all the great potential that the city has to offer to all travelers, Casablanca has now turned out to be one of the major tourist destinations worldwide. Thus, if you plan to visit Morocco this holiday season
Sports Played in Casablanca
Things You Need to Do in Casablanca
Prepare yourself for 24 hours of excitements in Casablanca by having a breakfast at a French bakery named Paul. You can find this restaurant in Villa Zevaco that is designed with art deco architecture. Considering that this restaurant is one of the trendiest spots to hang out in Casablanca, this place is rarely empty in the morning.
Once you finish your first meal of the day, Hassan II Mosque could be your first destination. This mosque was built in the 1980s and it is clearly far younger than the oldest structure in the city. The unique location and the French architecture attached on this mosque have made it worth your time and sight. The mosque is located on a rocky outcropping that rises up from the ocean. It resembles the look of a throne. This popular mosque is visited by at least 80,000 visitors where most of them are local worshipers.
Hassan II Mosque is known as the third largest house of God in the world and walking around this place might drain your energy. Before you continue your Casablanca day trip, make sure that you ride you the Rick's Caf for a Hollywood lunch. This place was inspired by a Hollywood movie entitled Casablanca and your lunch on Sunday will be more excited thanks the jazz live performance.
It is important that you enjoy your lunch because you surely need plenty of energies to explore a number of historic and popular sites in the city. Quartier Habous is a must-see spot for Casablanca travelers. You can spend a great deal of time in this place as you go shopping or enjoy the unique cuisines. This quarter was built in the 1930s and you can see how the French and Moroccan cultures collide nicely. If you are ready to end your day trip at Casablanca, make sure that you visit the cliff-top restaurant A Ma Bretagne. This would be a perfect spot for you to enjoy your dinner with your loved one
Casablanca Culture and History
Rabat is now considered the capital city of Morocco. However, the popularity of the city of Casablanca is nowhere to be unmatched. It is no secret that international tourists are more familiar with Casablanca than the capital city of the country. Not only is this city much larger than the capital, but the city of Casablanca is also filled with an array of fascinating tourist attractions. This commercial city is not only famous for its shopping paradise and nightlife, but the historical background and cultural beats of the city of Casablanca have also made it a very popular tourist spot for countless travelers from many different parts of the world.
The History of Casablanca at A Glimpse
Casablanca has to be the most popular city in Morocco. The fact that many people have recognized this beautiful city even since the World War II has made it more popular than the city of Rabat. Long before Franklin D. Roosevelt and Winston Churchill had an important conference in this city, Casablanca was home to their first settlers, the Berber. The first arrived in the area of Casablanca in the 7th century. With a population of 4,750,000 people, Casablanca turned out to be an established town in 1906. This huge city is also known as Dar el Baida or Casa. The fact that the city of Casablanca is well designed with a European style, this place looks like a city normally found in the south of Europe. No wonder to see many European travelers who feel at home as they visit the city of Casablanca.
During the Second World War, the city of Casablanca is a crucial region to the American side as they built a base for their American Air Force. The United States found this place very important when it comes to planning their European operations. The city of Casablanca also held an important international conference in 1943. Franklin D. Roosevelt and Winston Churchill utilized this particular conference to discuss the strategies to face the war.
The Culture of Casablanca
The city of Casablanca seems like quite a religious region. The establishment of the Hassan II Mosque which has turned out to be a well-known tourist site seems like a good confirmation. However, the Hasan II Mosque is not the oldest one in Morocco. This picturesque landmark was actually constructed in the 1980s. You may consider the beautiful mosque as your starting point to explore the whole city. After nice sightseeing in this area, it would be best if you head to the Rick's Cafe for more modern entertainment. There is a jazz session held live in this cafe. Should you are a Hollywood movie fan, you can easily tell that this particular cafe is well inspired by a Hollywood flick film entitled Casablanca
Casablanca Nightlife
You should complete your Casablanca visit with an unforgettable nightlife experience. Innumerable clubs and bars are all available in every corner of the city.
Popular Cafes in Casablanca
Brooklyn Bar
56 Boulevard de La Corniche,Aïn Diab Tel. : +212 661 259 698
Sky 28
Boulevard Zerktouni , Twin Center, Casablanca Tel. : +212 522 978 000
Petit Poucet
86 Boulevard Mohammed V, Casablanca Tel. : +212 5 2 490 060
Black House
Place des Nations Unies, Casablanca Tel. : +212 522 431 234
---
Explore The village of Skoura
Visit The Amerhidil Kasbah
Explore The Valley of Roses
Explore The Todgha Valley
---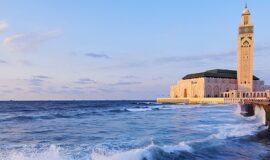 ---
Visit The Imperial Cities
Explore The Medina of Fez
Visit The Ait Ben Haddou Kasbah
Explore The South of Morocco
---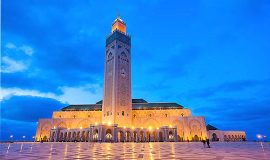 ---
Visit Hassan II Mosque
Visit the old medina
Visit Ville Novelle
Explore Casablanca
---